SBS Radio News
Aussies less sympathetic toward 'boat people': UN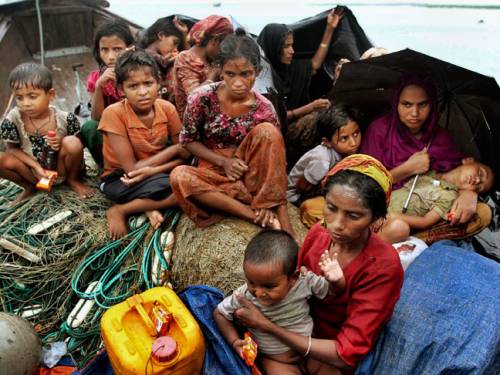 New UN statistics show Australians are less sympathetic toward 'boat people', and Australia's refugee program less generous than other nations.

UN report tracks refugee trends
Australia has been boasting that its humanitarian program is among the best in the world., with the government saying the country has resettled about 775,000 refugees and other people in humanitarian need since the end of World War II.

But Jana Favero from the Asylum Seeker Resource Centre says Australia cannot claim the humanitarian category of its immigration program is generous.

"There are over 40 million internationally displaced people and we offer 13, 000 humanitarian places each year.

"It really is quite dismal and something that we shouldn't be proud of, because while we do offer some places, we are not very generous at all."

Coinciding with Refugee Week, new UN figures show more than 42 million people ended 2011 either as refugees, internally displaced, or in the process of seeking asylum.

The 2011 Global Trends document released by the UN High Commissioner for Refugees (UNHCR) says Australia recognised just over 5,000 asylum seekers as refugees in 2011. This amounted to just over half a per cent of the global total.

The report says in the same 12 months, Australia resettled more than 9,000 people who had already been assessed to be genuine refugees overseas. This was more than 11 per cent of the global total, meaning that per capita, Australia took a high proportion.
But the UNHCR's Ben Farrell says 80 percent of refugee-receiving countries are developing countries.

"We find that the largest refugee hosting countries are Pakistan, Iran, and Syria all host huge numbers of refugees," he said.

He says that Afghanistan remains the biggest producer of refugees, with 2.7 million refugees from Afghanistan around the world.
"Iraq is a major source country of refugees with just under 1.5 million people. Somalis, Sudanese and people from the Democratic Republic of Congo also feature very highly".

The release of the UN data coincides with results of research about attitudes in Australia towards refugees and asylum seekers. It found that sixty-six per cent of Australians were sympathetic towards refugees who come to Australia.

"On the flip side, a lot of people, our survey has found, are less sympathetic to refugees who come to Australia by boat," Mr Farrell adds.
"And we think there is a bit of the language used often in the public debate that does feed into that around 'queue-jumpers'."

The UNHCR says there is no "queue" of people trying to get asylum in other countries.

"The process of seeking asylum is, by its nature, a disorderly process," Mr Farrell said. "People are forced to flee across borders often leaving their families and livelihoods behind."

The Red Cross relief agency says while it's heartening that two-thirds of Australians are sympathetic towards refugees, it is concerned about negative attitudes toward asylum seekers who arrive by boat.

Hang Vo from the Red Cross, who herself arrived in Australia by boat from Vietnam 34 years ago, says this has to be placed in context.

"In 2010, the statistics in terms of Australia's immigration program, only two per cent of people in that program came as boat arrivals," said Ms Vo.

Refugee Advocacy Network spokeswoman, Brigid Arthur accuses some politicians and parts of the media of the demonisation of asylum seekers.

"[They are] perpetrating these myths and misperceptions that we are being flooded by boat people," said Ms Arthur.
"The political and media debate around asylum seekers really is a race to the bottom at the moment, and so I can understand why a lot of people have misperception.

"We tend to forget that there are some basic human rights that people arriving here by boat have and that fact should never be lost."
Your Comments
Join the Discussion