SBS Radio News
Assange insists on US case against him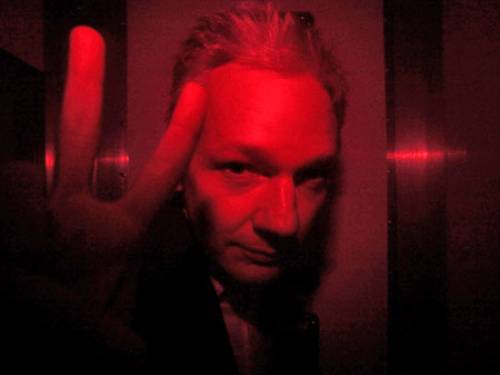 The argument over how much consular assistance the Australian government has provided WikiLeaks founder Julian Assange has continued after the Prime Minister waded in.

The argument over how much consular assistance the Australian government has provided WikiLeaks founder Julian Assange continues after Prime Minister Julia Gillard said he has not sought face-to-face contact from Australian consular officials while his legal case has gone on.

Mr Assange, who is now holed up in the Ecuadorean embassy in London seeking asylum, says he has not had personal contact with the Australian high commission in Britain since late 2010.

Instead, contact had been limited to text messages asking 'Does Mr Assange have any concerns?'.

Ms Gillard told reporters in Rio de Janeiro, where she is attending a UN environment summit, that Assange had received the same consular assistance as any other Australian would in the same situation.

"In the course of these legal proceedings consular officials have been in contact with his legal team and Mr Assange has not requested or sought for those dealings to be directly with him," Ms Gillard said.

Assange's "very high-powered legal team" was dealing with the matter.

Consular officials had attended court for each day of proceedings, Ms Gillard said.
In an interview with the ABC on Friday., he criticised the Australian government when it was suggested they have done all they can for him.
He said that since late 2010 he had only received SMS messages, and the government was offering him 'empty words.'
'I haven't met with anyone from the Australian High Commission since 2010. What are they talking about?' he asked.
Earlier, Mr Assange concedede there is no current indictment pending against him that could result in his extradition to the US, but the WikiLeaks founder insists US prosecutors are building a case.
He is trying to avoid extradition to Sweden over sexual assault allegations, which he says are baseless.
Assange previously claimed there was a secret US indictment against him over his role in publishing thousands of secret US diplomatic cables.
The Australian government has said there is no indication an indictment is pending and Assange agrees.
"Of course not, at the moment the matter is before the grand jury," he said.
"Until it comes out of the grand jury there will not be such evidence afforded."
But he cited continuing official investigations of his organisation and subpoenas issued against its internet service providers.
When told US authorities had said they were not interested in him, Assange said: "They're very careful with their words.
"Their careful statements reflect that the Department of Justice is not able to formerly confirm or deny the existence of a grand jury."
Assange said there was now a 48,135 page FBI file on him and WikiLeaks.
Your Comments
Join the Discussion