SBS Radio News
Desal plant closure not waste: NSW govt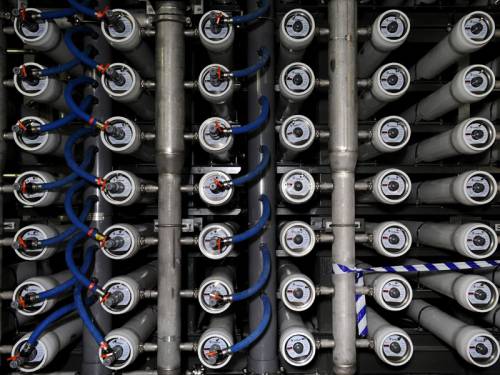 Sydney's controversial desalination plant will be shut down on July 1.
Sydney's desalination plant will be mothballed this weekend even though taxpayers will keep having to pay off its construction costs.
But NSW Finance Minister Greg Pearce says the $2 billion development hasn't been a waste of money.
"The fact that the desal plant will be turned off from the first of July will save Sydney Water customers $50 million a year," he told ABC Radio on Tuesday.
"But we'll still have the security if we ever or when we eventually need to turn the desalination plant back on again."
Mr Pearce said it could be up to three years before the Kurnell plant operated again.
"At the moment of course the dams are full, so it won't go back on until they drop below 70 per cent, and then the desalination plant operates until they're up to 80 per cent again," he said.
Mr Pearce confirmed the government was still paying $16 million a month for the cost of building the plant and pipeline.
Greens MP John Kaye told ABC Radio the plant was expensive and completely unnecessary.
"The problem we have now is that we're paying tens of billions of dollars to keep this plant when we don't even want to operate it," he said.
In May, the NSW government announced a 50-year, $2.3 billion deal to privatise the plant, netting it $300 million to build more roads, rail and other infrastructure.
Mr Pearce blasted the previous Labor government for a 2010 policy that kept the plant running at 100 per cent capacity.
"Labor built the desalination plant and Labor signed the contract to have it run at 100 per cent," Mr Pearce said in a statement to AAP.
"We reduced this to 18 per cent when Sydney dams reached capacity."
Sydney Water managing director Kevin Young said the plant's closure was part of its operating guidelines under the Metropolitan Water Plan.
"The dams are currently full and we're really pleased to have such a good supply," Mr Young said in a statement.
"It's also great we have a backup source of drinking water that will be available when dam levels fall below 70 per cent."
NSW Premier Barry O'Farrell said the government was doing its best with the desalination plant it had inherited.
"Our views about the desal plant are known. We opposed its construction," he told reporters in Sydney on Tuesday.
"We've inherited the desal plant, we've inherited the contracts around it and what Mr Pearce is doing is trying to avoid some cost to taxpayers."