SBS Radio News
MP group says asylum solution possible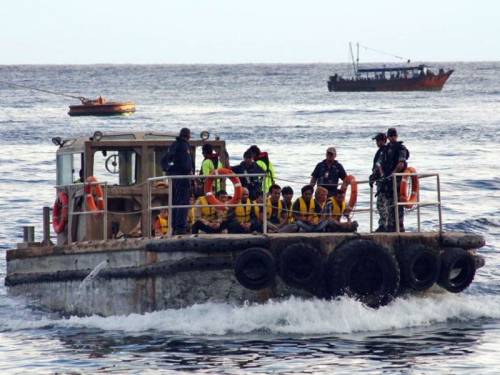 A multi-party group of MPs says a way forward can be found on asylum-seeker policy.
A multi-party group of MPs believes it can come up with a policy supported by all sides of politics to deal with asylum seekers.
The House of Representatives on Wednesday night passed a bill, put forward by independent MP Rob Oakeshott, to remove legal uncertainty over offshore processing of asylum seekers created by a High Court ruling.
The Senate is debating the bill on Thursday, but it is certain to fail due to opposition by the Australian Greens and the coalition.
Independent MP Tony Windsor - who brought together members from the coalition, Labor and the crossbenches on Wednesday to look at a way forward - told reporters on Thursday there was potential for a resolution to the impasse.
"It's obvious from the parliament yesterday and possibly from the Senate today we may well end up with some sort of impasse," Mr Windsor said.
"I think all of us believe we need cool heads and cool thoughts to develop up a process.
"The only way this will be solved long-term will be for all the players ... to come together and design something they can all believe in and have faith in."
Liberal MP Judi Moylan said there was a "great deal of goodwill" but it was unfortunate that as the group's meeting ended on Wednesday the prime minister announced Mr Oakeshott's bill would go forward.
"The Oakeshott bill is the worst of all options because the government removed ... some of the protections we would normally afford to asylum seekers," she said.
There were differences on how the group should proceed.
"But I believe with continued goodwill and continued talking and looking at all of the options we could break the stalemate and have a policy the major parties can sign up to that can actually pass through both houses."
Labor's Steve Georganas believed progress had been made in the past two days.
"For six months there was a deadlock," he said.
"At least that deadlock has loosened up and that has happened because of this particular group getting together."