SBS Radio News
Granny attempts swim without shark cage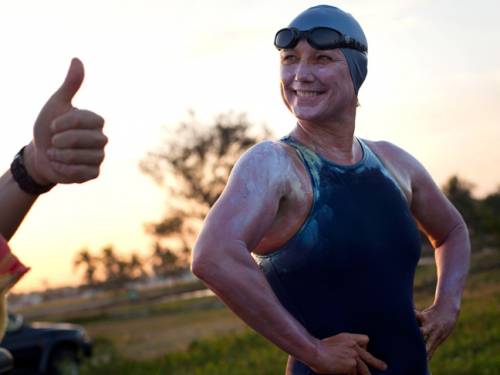 British-Australian swimmer Penny Palfrey has launched a historic attempt to swim unassisted from Cuba to the United States, seeking to become the first do so without a shark cage.
British-Australian swimmer Penny Palfrey, who is attempting to cross unassisted from Cuba to the United States, had covered nearly a fifth of the distance.

The 49-year-old mother of three and grandmother of two is seeking to become the first to complete the historic feat without a shark cage.

Slathered in sunscreen, Palfrey jumped into the sea at the Hemingway International Yacht Club in western Havana shortly after sunrise Friday.

By nightfall, she had advanced 18 miles (33 kilometers) toward Florida's Key West and was determined to keep forging ahead, her support team reported.

The swim, a distance of 103 miles (166 kilometers), was expected to take between 40 and 50 hours.

Palfrey arrived at the dock in the Cuban capital under clear skies wearing a blue bathing suit, gray cap and goggles. She waved an Australian flag.

"A little excited, a little nervous," Palfrey told reporters before diving into the water. "Beautiful sea, beautiful sunrise," she added.

So far, she has not encountered any unusual weather conditions.

Palfrey is seeking to accomplish the feat in a "call for friendly relations between the peoples of the United States and Cuba," according to the Cuban foreign ministry.

Cuba's national commissioner for swimming, Rodolfo Falcon, told AFP that if Palfrey succeeds, "it will be something out of this world."

"Sea conditions are not similar to the pool, where she trained for many hours. At sea, the salt water weighs you down," said Falcon, who won a silver medal at the 1996 Olympic Games.

Susie Maroney, a former Australian marathon swimmer, swam from Cuba to Florida in 1997 when she was just 22, but she used a shark cage.

Veteran US endurance swimmer Diana Nyad, 62, has tried, and failed, to complete the trek three times, twice without a shark cage.

Her latest attempt was in September, when she quit two-thirds of the way into the crossing after suffering dangerous jellyfish stings. She plans to try again this summer.

Two yachts, a kayak and a boat are part of Palfrey's support team, which includes her husband Chris. The vessels are carrying ultrasound equipment to ward off sharks.

Palfrey, who was born in Britain and moved to Australia at the age of 19, is among the most accomplished open-water swimmers in the world and has completed swims in the Caribbean and Pacific without a shark cage.

Two years ago, she crossed the Strait of Gibraltar between Spain and Morocco in three hours and three minutes, setting a new record for women.

Last year, Palfrey -- who began swimming at age nine -- swam from Little Cayman to Grand Cayman Island, again without a cage.