SBS Radio News
Boat row continues among parties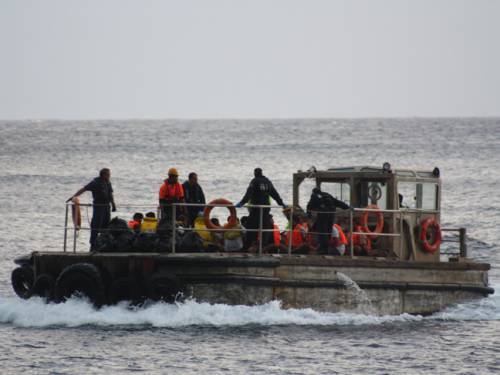 The ayslum seeker policy debate is continuing as another load of asylum seekers arrived on Christmas Island on Friday.
The coalition has seized on the latest boat arrival as evidence people smugglers are taking advantage of what is says is Labor's asylum seeker policy stalemate.
A boat carrying 31 people on board was boarded on Friday west of Christmas Island after being detected and intercepted by Australian authorities.
Opposition immigration spokesman Scott Morrison said the arrival showed people smugglers were continuing to take advantage of Prime Minister Julia Gillard's refusal to act to restore the coalition's border protection policies.
"Two years ago yesterday Julia Gillard promised she would break the people smugglers' business model by building an offshore processing centre on East Timor," Mr Morrison said in a statement on Saturday.
"Since that time she has overseen the largest number of illegal boat arrivals under any prime minister, with 206 boats and over 13,600 people arriving on her watch."
Labor want the coalition to support its policy to send asylum seekers to Malaysia under a people swap deal.
But the coalition insists its policies when it was in government under former prime minister John Howard are the answer to stopping illegal arrivals.
"Rather than restore the policies that worked - offshore processing in Nauru, temporary protection visas and turning boats back where it is safe to do so - Julia Gillard has stumbled through policy failure after policy failure and has now created a committee solution as an excuse not to restore these policies," Mr Morrison said.
Ms Gillard has invited former Defence chief Angus Houston to lead an expert group to advise the government on asylum seeker policy, with cross-party representatives.
But the coalition has refused to provide any representatives because there are no terms of reference for the multi-party committee.
"And there is still no terms of reference for her proposed multi-party committee more than a week since it was announced despite repeated requests from the coalition," Mr Morrison said.
"Australia's borders are being overseen by a weak prime minister.
"No multi-party committee is required to restore the measures that worked to stop illegal boat arrivals and end the chaos and tragedies on our borders."
Greens immigration spokeswoman Sarah Hanson-Young, who returned from a visit to Indonesia on Saturday, said conditions in Indonesia for asylum seekers were worsening.
"That is adding to the stress and the desperation to board boats," she told reporters in Adelaide.
It was time Labor and the coalition realised how delusional their policies were, Senator Hanson-Young said.
She urged the government to resettle more people immediately and said the coalition's idea of towing back boats was simply unrealistic, put more lives in danger and would lead to more deaths.