SBS Radio News
Slater still at least week away: Bellamy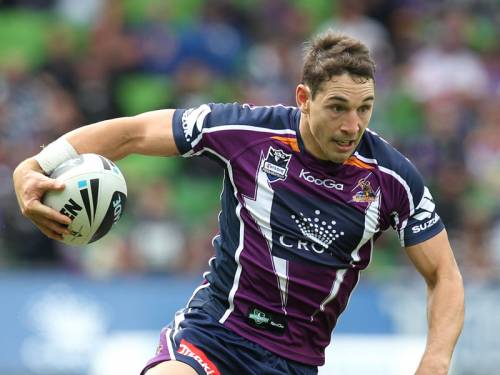 Melbourne coach Craig Bellamy says he won't rush Billy Slater back from a knee injury despite the club's below-par NRL form.
Billy Slater won't be rushed back from injury to kick-start Melbourne's spluttering NRL season.
The Storm's 40-12 defeat by Canberra on Saturday night was their third in four matches, and came without injured Slater and rested skipper Cameron Smith.
Slater sustained a knee injury during the State of Origin series, while Queensland captain Smith was given the night off for the Canberra match because of his Origin exertions.
But coach Craig Bellamy says Slater is highly unlikely to return to play the Cowboys on Saturday at AAMI Park, though Smith is a certain starter.
"Bill will be struggling to get back next week. We're certainly not going to make a snap reaction and bring him back because of what happened," Bellamy said.
"He'll be 100 per cent when he comes back and if that's another week or another two weeks, that's what we'll do.
"Pretty sure there will be some changes though."
Bellamy defended his decision to rest Smith, whom he said was both mentally and physically weary after leading the Maroons to a seventh straight Origin series victory.
And he suggested halfback Cooper Cronk, who played against the Raiders, was likely to get a week off soon to recover from his representative commitments.
"Before the Origin game we decided he (Smith) was probably going to get a rest, and we thought long and hard about Coops as well," Bellamy said.
"Down the track we'll probably look to rest Coops as well.
"It (Origin) was very physically taxing for Cameron the other night, and also his first series as captain mentally took a bit out of him so we decided to give him a break."
Cronk, who booted the Origin series-deciding field goal but was still among the Storm's better contributors against the Raiders, admitted he was unusually tired following his tough week.
"This game is a tough, uncompromising game (but) Origin is a joy to play and you want to be proud and back up for your club as well," he said.
"It's a tough period, it's over now. But we (Storm) might have some more hard work to do in the next few weeks."
Melbourne remain top of the ladder despite their difficulties over the Origin period.