SBS Radio News
Nigeria oil tanker fire kills over 100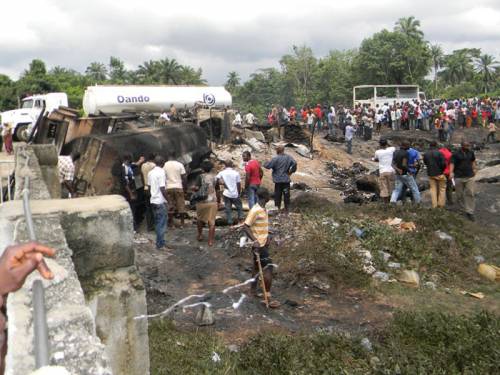 More than 100 people have died after a tanker exploded into flames in Nigeria, as dozens of people crowded around the vehicle scooping up fuel.
More than 100 people who rushed to scoop up fuel after a Nigerian petrol tanker tipped over were killed when the vehicle and pools of spilled oil caught fire.
Children were among those killed, while dozens more were badly burned, despite a warning from troops who arrived at the crash site that a blaze could ignite at any moment.
The tanker driving in the southern Rivers state swerved as it was trying to avoid a collision with three oncoming vehicles, including a bus, said Kayode Olagunju, head of the state's Federal Road Safety Commission.
Shortly after Thursday's collision hundreds of locals in the Ahoada area flocked to the scene to collect the spilling fuel.
Some troops who reached the crash site before the fire broke out told people to clear off, but many ignored the warning, an official from the National Emergency Management Agency said.
Forces from the military's Joint Task Force "got to the scene before us. They warned people to leave the scene to avoid disaster. But many of them were busy scooping fuel. They disobeyed," Emenike Umesi explained.
The state's information commissioner Ibim Semenitari told AFP the fire had been put out but emergency services were still trying "to clear the carnage".
"More than 100 people were killed in the inferno from the petrol tanker, while around 50 with severe burns have been hospitalised," she said.
Some were burned beyond recognition, while others appeared treatable, said Geoffrey Ikogha a local chief in Ahoada, near the oil hub of Port Harcourt.
The crowd of relatives and sympathisers at the General Hospital in Ahoada was huge, Ikogha said.
Later in the day, more than 85 of the dead were given a mass burial at the disaster site.
"These were bodies that were burned beyond recognition. They couldn't be moved," Semenitari said.
Many of the dead were motorcycle taxi operators, known locally as Okada.