SBS Radio News
Spanish civil servants protest wage cuts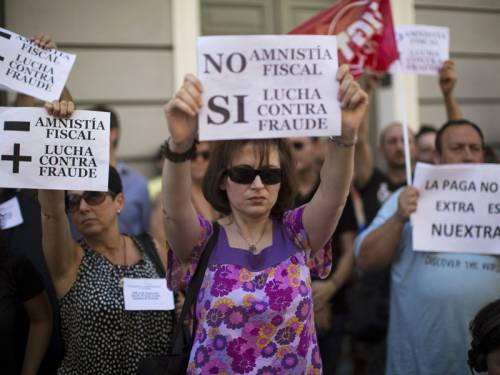 Hundreds of Spanish civil servants have taken to the streets to protest austerity measures as the government announces a fund for hard-hit regions.
Spanish civil servants, many dressed in mourning black, have taken to the streets of Madrid in angry protest as the government approved new sweeping austerity measures that include wage cuts and tax increases for a country struggling under a recession and an unemployment rate of near 25 per cent.
Spain is under pressure to get its public finances on track amid concerns in the markets over the state of the country's banks and the wider economy.
"Spain is going through one of its most dramatic moments," Deputy Prime Minister Saenz de Santamaria said after a cabinet meeting at which sales tax hikes and spending cuts were approved.
Admitting that the austerity measures were "neither simple, nor easy, nor popular," she said the government would try to enact the measures "with the maximum justice and equity".
The conservative government has come under mounting criticism that the austerity measures are hitting the middle and working classes the hardest.
"The government should go after the big companies that don't pay tax and bankers that have committed fraud and have run this country to the ground," said Pablo Gonzalez, 52, who works for the Madrid regional government. "Instead, we have to pay."
The aim of the latest package of measures is to chop 65 billion euros ($A78.74 billion) off the budget deficit through 2015, the biggest deficit-reduction plan in recent Spanish history.
As dusk fell, several hundred mainly young protesters marched in Madrid, stopping to jeer outside the headquarters of the ruling conservative and opposition Socialist parties before heading to the parliament.
Though the increase in sales taxes, which risks slowing consumption and worsening Spain's recession, will take effect on September 1, other reforms will be left for later in the year, including a plan to speed up the gradual raising of the retirement age from to 65 to 67.
Meanwhile, Economy Minister Luis de Guindos announced the creation of a new mechanism to help Spain's 17 regions finance themselves more easily. Some, such as Valencia in the east, are finding it increasingly difficult to tap capital markets for much-needed cash.
The latest bout of austerity is prompting widespread opposition, not least from civil servants. In Madrid, several hundred government workers blocked traffic briefly in different parts of the city. In Valencia, several hundred Justice Ministry workers shouted "hands up, this is a stick-up" at a protest rally.
The civil servants - whose wages were slashed five per cent on average in 2010 in the first round of austerity cuts - are usually paid 14 times a year. The government is now axing an extra payment made just before Christmas. Prime Minister Mariano Rajoy, his cabinet and MPs will also suffer the cut. At the local, regional and central levels, there are around three million public servants in Spain.
In the Puerta del Sol in downtown Madrid, about 500 civil servants gathered, about half dressed in black. Some women wore veils, as if at funerals. Protesters blew whistles and horns.
Civil servants are often ridiculed in Spain and seen as lazy, clock-in and clock-out types with the luxury of lifetime jobs. But many earn as little as 1,000 euros a month.