SBS Radio News
Woodside gas hub condition 'unworkable'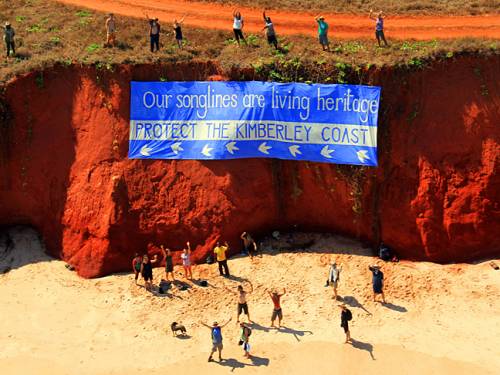 A key environmental condition for Woodside's Browse gas project in Western Australia is unworkable, conservationists say.
A key environmental condition for Woodside's Browse gas project in Western Australia is unworkable, conservationists say.
The state's Environmental Protection Authority (EPA) on Monday recommended that WA environment minister Bill Marmion approve the project at James Price Point, north of Broome in the Kimberley region, subject to 29 conditions. If it goes ahead with the $30 billion development, Woodside must steer clear of fossilised dinosaur footprints around the shoreline.
The Australian Conservation Foundation (ACF) and the Australian Greens' senator for WA, Rachel Siewert, say the condition is unworkable because the dinosaur footprints run the entire length of the Dampier Peninsula.
"You won't be able to avoid the dinosaur footprints," Senator Siewert told AAP.
The paleontological importance of the footprints, which were part of the local indigenous mythology and songlines, had been downplayed in the EPA's report to Mr Marmion, Senator Siewert said.
Both Senator Siewert and the ACF were concerned that the report had been done by one person - EPA chairman Paul Vogel - after four other board members had to stand aside due to conflicts of interest.
Senator Siewert said acting board members who did not have a conflict of interest should have been brought in to assist Mr Vogel.
"You have five members on the EPA board for a reason," Senator Siewert said. "It makes a farce of the process.
" The Broome Community No Gas Campaign said local people had no faith in the veracity of the report.
"The EPA's own rules state that three board members are required for a quorum, and this is the largest decision in their history, yet it has been made by just one man," the campaign's Nik Wevers said.
Mr Vogel said the evaluation process had been very thorough, and Mr Marmion said the State Solicitor's Office had advised him that the EPA assessment was conducted appropriately.
"I believe the EPA has taken the appropriate course of action and have confidence in the integrity of the EPA chairman Dr Paul Vogel to provide me with informed advice and recommendations on the project," Mr Marmion said.
WA's Acting Premier Kim Hames said the state government would ensure environmental impacts of the project were monitored and managed to the highest standards.
The project would generate new employment, business opportunities and economic diversity for the region and the state, Dr Hames said.
"It will also secure significant additional benefits for traditional owners and Aboriginal people throughout the Kimberley." The proposal is also subject to commonwealth approval. The EPA report will be open for public consultation for two weeks.