SBS Radio News
'Assad regime to collapse soon': Jordanian Brotherhood leader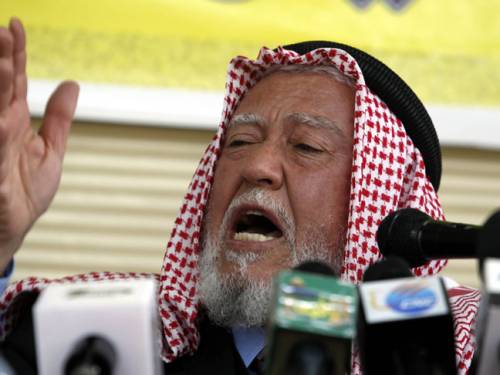 Jordanian Muslim Brotherhood leader Hamza Mansour has predicted the imminent demise of Syrian president Bashar al-Assad.

Despite the Russian and Chinese veto of the latest United Nations resolution calling for stronger sanctions against President Bashar al-Assad, Jordan's leading Islamist cleric has predicted the Syrian president's imminent demise.

Hamza Mansour, Secretary General of the Islamic Action Front, which is the political wing of the Jordanian Muslim Brotherhood, maintains his support of what he calls the "revolutionary masses" trying to topple the Assad regime.

"The movement of the battle to Damascus, to most of its suburbs, and for the revolutionary masses to arrive at the central decision-making buildings confirms that the tyrannical Assad regime will collapse soon" he said, speaking shortly after the bomb blast which killed key Assad cabinet members in the Syrian capital yesterday.

SBS spoke with Mr Mansour from the Islamist party's headquarters in Amman hours before the impasse over the UN resolution.

"History shows that the will of the people is always strong and triumphant. It is hoped that victory will be achieved without any or a minimum amount of casualties. "

Like other Arab nations, the constitutional monarchy of Jordan has experienced a wave of political disturbances, but it has been considerably quieter than its neighbour, Syria.

And Jordanian monarch King Abdullah II's rhetoric regarding Syria has been more measured than that of his Islamist party compatriot, Mr Mansour.

In an interview with CNN last week King Abdullah said attacks on key Syrian government buildings were "a blow", but he was "sure the regime will continue to show fortitude at least in the near future".

King Abdullah has been careful in appeasing Jordan's Islamist political bloc through a number of reforms, and has favoured Bedouin tribes who have been loyal supporters to his regime.

Invested with enormous political authority, King Abdullah is the chief commander of Jordan's armed forces and can amend legislative and constitutional judgements.

He used these powers to controversial effect when he dissolved the country's parliament in November 2009, halfway through its four-year term.

Mr Mansour said the Muslim Brotherhood had again decided to boycott parliamentary elections, which are scheduled towards the end of this year, because reforms proposed by King Abdullah fell short of its demands.

"The King has not confirmed the final picture of what the election law would look like, let alone when the elections will be held," he said.

"The election law as designed by the current government and the lower and upper houses does not show a true democratic transition."

His party's main contention is a long-standing electoral law that allows each voter two ballots – one for a local district representative and one at the national level.

It allocates the largest proportion of national seats to rural areas, traditionally held by the Bedouin tribes – this may penalise the Islamists, who have strong urban support.

While Islamist parties fared well in recent elections in Egypt, Tunisia and Morocco, Mr Mansour was adamant that democratic conditions in Jordan needed serious reform before his party re-entered the political process.

"This idiotic law depends on the exclusivity of one voice and there is no other equivalent law like this in the world," Mr Mansour said.

"This does not represent the [Jordanian] citizen's will. Therefore, we absolutely refuse to participate in elections which do not adequately represent our citizens.

"We want an independent government with control over agencies and departments as opposed to the current system where the security agencies openly control bureaucratic functions and have effectively handcuffed the government from doing its job."

Jordan's Mukhabarat (intelligence agency) has previously intervened in civilian affairs, including frequent crackdowns on a number of small protests last year in Amman and smaller cities.

In an effort to placate the Muslim Brotherhood, King Abdullah recently met with Hamas leader Khaled Meshaal.

Mr Mansour also met with Mr Meshaal while he was in Amman.

"I cannot speak for Hamas, suffice to say that it is in Jordan's interest to maintain good relations with Palestine as both countries suffer from the same threat," he said.

He said the meeting between King Abdullah and Hamas would have no bearing on his party's decision to boycott this year's elections.