SBS Radio News
PM confident of budget surplus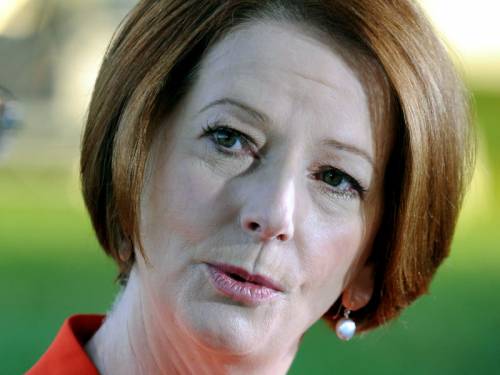 Prime Minister Julia Gillard says the budget will return to surplus despite a report suggesting further spending cuts may be needed to achieve one.
Prime Minister Julia Gillard is confident her government will deliver a promised budget surplus, despite a new report suggesting revenues are under threat and the mining boom will peak in the next couple of years.
Treasurer Wayne Swan forecast a $1.5 billion surplus in 2012/13 in the May budget, and growing surpluses out to 2015/16.
A Deloitte Access Economics report suggests that revenues have not matched the economic recovery since the global financial crisis, and warns that the mining boom will peak in 2014, putting further pressure on the budget thereafter.
"Were the treasurer to be bringing the federal budget today, he'd have had to cut further to reach a 2012/13 surplus," the report's author Chris Richardson says.
But Ms Gillard remains confident about the outlook.
"The budget will return to surplus," Ms Gillard told reporters in Canberra on Monday.
"This report is actually called the glass is half full, so it is reinforcing the strength of the Australian economy."
Mr Richardson said Australia had just had 21 years without a recession.
"That is a remarkable achievement," Mr Richardson told Sky News.
But shadow treasurer Joe Hockey said the government must come clean on how it would make up the revenue shortfall.
He warned every boom ended in a bust, and as the mining boom came off the extreme highs there would be budgetary implications.
"The government has built a budget that is wholly captive to the mining boom," Mr Hockey told reporters in Sydney.
"The budget is unravelling because it was built on smoke and mirrors."
However, the Association of Mining and Exploration Companies CEO Simon Bennison said there was still a cautious optimism about the outlook for commodity prices.
"I think there is a very strong foundation underpinning our resource sector, and I think given the long-term-view approach taken by China we'll avoid a so-called bust as we know it," Mr Bennison told Sky News.
Trade Minister Craig Emerson said a decline in mineral prices had been factored into the budget.
In the budget, the terms of trade - the ratio of exports to imports - was forecast to decline 5.75 per cent in 2012/13 from historical highs, and by a further 3.25 per cent drop in 2013/14.
Trade price data released on Friday indicated that the terms of trade had now eased for three straight quarters.
New data on Monday showed prices paid by business remained relatively benign.
The producer price index rose 0.5 per cent at the final stage of production in the June quarter, for an annual rate of just 1.1 per cent, well below the Reserve Bank of Australia's (RBA) 2-3 per cent inflation target band.
Economists had expected a smaller 0.3 per cent rise in the quarter.
"These data are nonetheless consistent with only moderate pricing pressure within the Australian economy," Macquarie Research economist Aimee Kaye said.
However, despite only modest inflation, she said the RBA had not signalled that another interest rate cut was imminent.
The consumer price index for the June quarter is due on Wednesday.