SBS Radio News
Europe shaken by Spain bailout fear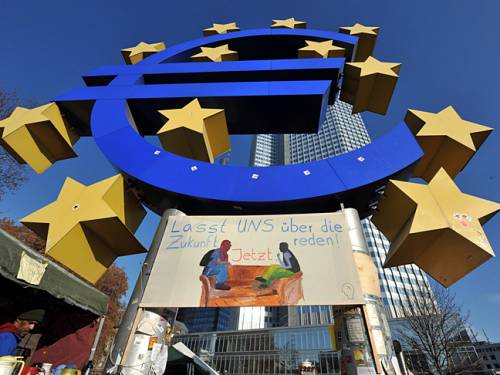 As recession deepens in Spain, market fears that a government bailout will be needed have sent bond rates soaring.

Europe's debt crisis has flared again as fears intensified that Spain will be next in line for a government bailout.
A recession is deepening in Spain, the fourth-largest economy that uses the euro currency, and a growing number of its regional governments are seeking financial lifelines to make ends meet.
The interest rate on Spanish government bonds soared in a sign of waning market confidence in the country's ability to pay off its debts.
The prospect of bailing out Spain is worrisome for Europe because the potential cost far exceeds what's available in existing emergency funds.
Financial markets are also growing uneasy about Italy, another major European economy with large debts and a feeble economy.
Stocks fell sharply across Europe and around the world.
The interest rate on Spain's 10-year bond hit 7.56 per cent on Monday morning, its highest level since Spain joined the euro in 1999.
Concern over Spain increased after the country's central bank said the economy shrank by 0.4 per cent during the second quarter, compared with the previous three months.
The government predicts the economy won't return to growth until 2014 as new austerity measures hurt consumers and businesses.
On top of that, Spain is facing new costs as a growing number of regional governments ask federal authorities for assistance. The eastern region of Valencia revealed on Friday it would need a bailout from the central Madrid government. Over the weekend, the southern region of Murcia said it may also need help.
Spain has already required an emergency loan package of up to 100 billion euros ($A118 billion) to bail out its banks. But that aid hasn't quelled markets because the government is ultimately liable to repay the money.
It had been hoped that responsibility for repayments would shift from the government to the banks. But that shift is a long way off - a pan-European banking authority would have to be created first and that could be years away.
Yet it is far more than Spain's struggle that has unnerved markets.
Greece is still struggling with a mountain of debt and international creditors will visit the country on Tuesday to check on the country's attempts reform its economy.
There is concern that officials from the European Commission, European Central Bank and the International Monetary Fund will find that that Greece is not living up to the terms of its bailouts and could withhold future funds.
Italy has also been caught up in fears that it may be pushed into asking for aid.
Italy's economy is stagnating and markets are worried that it may soon not be able to maintain its debt burden of 1.9 trillion euros - the biggest in the eurozone after Greece.
Interest rates on Italy's government bonds rose steeply Monday while its stock market dropped.
The collapse in stock prices in Italy and Spain prompted regulators to introduce temporary bans on short-selling - a practice where traders sell stocks they don't already own in the hope they can make a profit if the stock falls in price.