SBS Radio News
O'Neill confident of forming government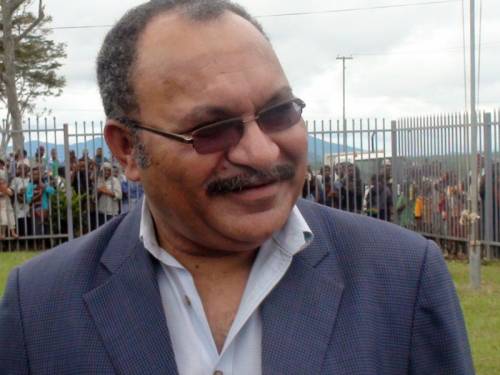 PNG's Peter O'Neill likely form the country's next government, even as his relationship with hot-headed deputy Belden Namah disintegrates.
Papua New Guinea's incumbent prime minister Peter O'Neill is confident he will form the country's next government, even as his relationship with hot-headed deputy Belden Namah disintegrates.
Mr O'Neill says he expects his People's National Congress (PNC) party will have the first shot at forming government in the coming weeks, after so far winning 17 out of 111 seats at the 2012 national elections.
The PNC is leading in another 14 seats, with counting expected to finish this week.
"I would rather be in my shoes than in anybody else's shoes," a laid-back Mr O'Neill told reporters in Port Moresby.
"We are very confident that on current indications, PNC will be called to form a government."
Mr O'Neill indicated a working relationship with his former deputy, Mr Namah, was not high on his agenda.
Mr Namah has said he is ready for the top job, and two weeks ago criticised Mr O'Neill and election commissioner Andrew Trawen, who he said should be ashamed for letting the delay-marred 2012 poll go ahead.
"Do I look like I am excited," Mr O'Neill deadpanned in response to a question about Mr Namah being part of the government.
"I wish him luck.
"I think Papua New Guineans are sick and tired of erratic behaviour. They need leaders who are stable. They do not need leaders who are unpredictable."
Mr O'Neill was referring to Mr Namah's storming of the Supreme Court in early June along with his bodyguards, who he told to arrest chief justice Sir Salamo Injia after the latter ignored Mr Namah's 48-hour deadline to quit.
The pair formed an unstable alliance in August least year to turf out incumbent PM Sir Michael Somare, a decision that led to 10 months of political instability in PNG.
Mr Namah's PNG Party has so far won six seats.
Governments in PNG are usually formed out of broad coalitions and negotiations have already begun, with newly-minted MPs being called to different camps around the country.
The PNC is gathering in Alotau, Milne Bay.
The second largest bloc forming in parliament is the Triumph Heritage Empowerment party with five seats declared and a lead in eight more.
Party leader and former treasurer and deputy prime minister Don Polye told AAP he is talking to all comers about forming a new government.
"THE Party has an open door policy," he said from THE Party camp headquarters at the Grand Papuan Hotel in Port Moresby.
The People's Progress Party led by former PM Sir Julius Chan is also in the mix.
Political observers say the six seats it has won so far will put it in a strong negotiating position with the incoming government, meaning Sir Julius could be elevated to the deputy prime ministership.
So far 66 MPs have been declared.
The writs are due to be returned to the electoral commission by Friday.