SBS Radio News
O'Neill says he can form PNG govt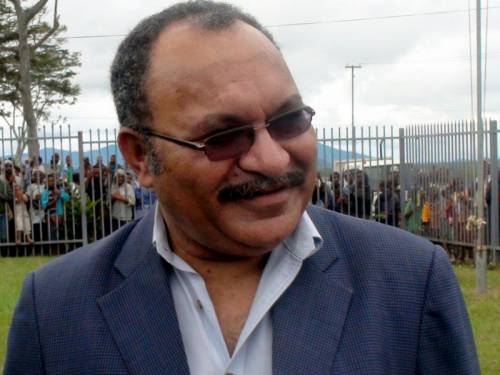 Peter O'Neill says he can form Papua New Guinea's next government after securing the backing of rival Sir Michael Somare and cross-party heavyweights.
Peter O'Neill has declared he has the numbers to form Papua New Guinea's next government, after securing the backing of rival Sir Michael Somare and cross-party heavyweights.
However, Mr O'Neill's fiery deputy, Belden Namah, maintains he is the come-from-behind favourite to form government as political parties continue intense negotiations while election results are still rolling in.
Mr O'Neill told reporters in Port Moresby on Wednesday he had the numbers to form the next government.
"(We have) overwhelming numbers, more than 56," he said.
"I can assure our people and the country we have the numbers to form government."
Mr O'Neill made the comment after another former deputy prime minister, Don Polye, who had been treasurer in the administration of Sir Michael Somare, announced that Mr O'Neill had the backing of his Triumph Heritage Empowerment Party and with it as many as 12 MPs.
Less than 24 hours before he drew the backing of Sir Michael Somare, the man known as the father of the nation and who was kicked out of parliament by Mr O'Neill's government.
Reports that the pair embraced at the conclusion of their meeting marked an unlikely end to the political crisis that had gripped the nation for almost a year and led at its height to a failed mutiny on behalf of Sir Michael Somare's ousted cabinet.
"This is something you will never see anywhere in the world," said former prime minister and O'Neill supporter Sir Julius Chan.
Mr O'Neill said Sir Michael Somare was unlikely to seek cabinet office, telling journalists that he, Sir Julius Chan and another politically hefty backer, former PM Paias Wingti, already had jobs as provincial governors.
One Somare staffer familiar with negotiations told AAP the political veteran, who became PNG's first PM in 1975, was likely to concentrate on his duties in his coastal electorate of East Sepik.
The union of Mr Polye and Mr O'Neill potentially brings into government the only women so far elected in the 2012 poll - O'Neill backer Loujaya Toni and THE Party member Dellilah Gore.
So far 68 seats out of 111 have been declared. Mr O'Neill's People's National Congress has so far banked 21 seats, making it likely to be the first invited by Governor-General Sir Michael Ogio to form government.
MPs backing Mr O'Neill, including five elected members of Sir Michael Somare's National Alliance, are being flown to Alotau at Milne Bay where negotiations are set to continue.
One prominent MP not to turn out in support of Mr O'Neill is Belden Namah, who broke with Mr O'Neill mid-campaign and voiced his anger at the delay-marred election.
The pair had an agreement to form government and back the other for PM if their parties achieved the numbers.
Mr Namah's PNG party has so far garnered six seats in parliament.
The one-time kingmaker, who along with Mr O'Neill claimed government in August last year, has set up camp at Kokopo in East New Britain and declared he is the come-from-behind favourite to claim the top job.
"I am the favourite horse in the field," Mr Namah told The National newspaper.
"I will beat everybody for the top post because I will come from the back and beat everybody and that includes the caretaker prime minister."
Mr Namah could not be reached for comment.
Electoral commissioner Andrew Trawen has extended the deadline for the return of writs from Friday until next week, with the exact time still to be announced.
This is to accommodate ate counting in some provincial and infrastructure-poor areas which are hard to reach.