SBS Radio News
Syrian forces 'step up attacks on Aleppo'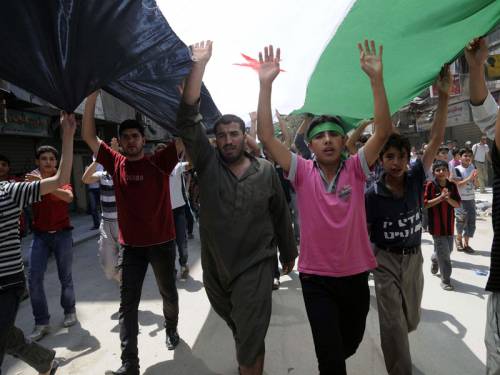 There are growing fears of mass killings in the Syrian northern city of Aleppo, as Syrian forces intensify air and ground attacks.
Syrian forces on Sunday intensified air and ground attacks on rebel-held areas in Aleppo, opposition activists said, amid growing fears of mass killings in the northern city of more than two million people.
Helicopter gunships fired on the district of Salaheddine in south-eastern Aleppo, one of several neighbourhoods being held by rebels, said activists.
The attacks are part of a massive offensive, which regime forces started on Saturday to regain control of Aleppo, the country's commercial hub.
"Fierce clashes are taking places in the districts of Bab al-Hadid, al-Zahara and al-Arqub (in northern Aleppo)," said the opposition Syrian Observatory for Human Rights.
Of the 160 people killed across the country on Saturday, the London-based organisation reported at least 31 deaths in Aleppo.
The rebels said they had blocked the army from entering several districts in Aleppo and destroyed many tanks. But their claims could not be independently verified.
The outcome of the battle in Aleppo could determine the course of the uprising against President Bashar al-Assad's regime.
The opposition has warned of a possible massacre in Aleppo.
"The international community will be responsible if this happens," said Abdel Basset Sayda, the head of the Syrian National Council.
He called for international action outside the United Nations Security Council after Russia and China, al-Assad's main allies, vetoed a draft resolution threatening tough sanctions earlier this month.
"What is happening in Syria is not an internal difference. It is a popular revolt," Sayda told a press conference in Abu Dhabi late on Saturday.
Al-Assad sent reinforcements to Aleppo last week after many areas fell to the rebels, who killed four top security officials in a bomb attack in Damascus this month, dealing a severe blow to the government.
Meanwhile, Syrian Foreign Minister Walid al-Moallem arrived in Tehran on Sunday for talks with Iranian officials, the Fars news agency reported
Iran, a key regional ally of Syria, has been backing al-Assad since the uprising started in March 2011, and in which more 20,000 people have been killed, according to the Syrian Observatory for Human Rights.