SBS Radio News
Relay flop still a disaster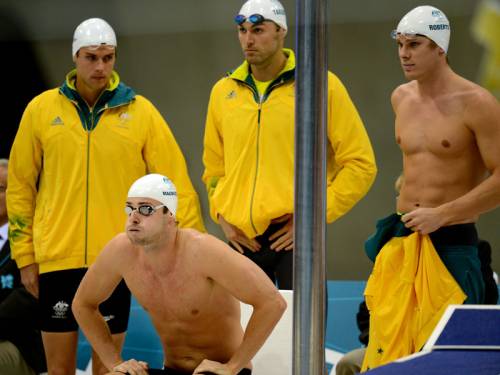 After a sleepless night to dwell on it, Matt Targett agrees with coach Leigh Nugent's assessment that the freestyle relay flop was disastrous.
The morning after didn't make it any better.
Australia's failure to win any medal, let alone gold, in the 4x100m freestyle relay is still a disaster.
Matt Targett says he had plenty of time to reflect on the world champions' Olympic blowout on Sunday during a sleepless night and agrees with head coach Leigh Nugent's assessment that it was "a bit of a disastrous result."
"Leigh's known for his honesty and that's not far from the truth," Targett told reporters on Monday.
Targett says he and teammates James Magnussen, Eamon Sullivan and James Roberts were all optimistic before being blown away by France, the US and Russia.
"We, like everyone else, expected to come home with gold or at least be on the podium unless something went slightly wrong," Targett said.
"It went more than slightly wrong."
World champion Magnussen has come under the most fire for a poor opening leg of 48.03 seconds, almost a second slower than his best, and Targett did little to ease the pressure on the team leader.
"We had a plan of establishing a lead and building on it and that didn't go to plan," he said.
"... Obviously nobody expected James to swim 48, that might have thrown us a bit."
But he defended Magnussen for sitting head bowed during Roberts' last leg in which he started in third place but was passed by Russian Danila Izotov to drop out of the medals.
"He was sitting there in a state of shock," Targett said.
Meanwhile, defending champion Stephanie Rice unconvincingly reached Monday night's semi-finals of the 200m individual medley as the ninth fastest qualifier in Monday morning's heats, while Alicia Coutts was fifth fastest.
Controversial swimmer Nick D'Arcy was the 12th fastest into the 200m butterfly semi-finals, while Kylie Palmer and Bronte Barratt reached their 200m freestyle semis.
Australia's rowers had some powerful results at Eton Dorney on Monday morning, with veteran Drew Ginn's bid for four gold medals from four Olympics remaining on track.
The new generation Oarsome Foursome of Ginn, James Chapman, Joshua Dunkley-Smith and William Lockwood set an Olympic record in winning their heat, several seconds faster than defending champion Great Britain who also won their heat easily.
They'll next row in Thursday's semi-finals.
Brooke Pratley and Kim Crow rowed straight into Friday's final of the women's double sculls with a strong win in their heat, but will find it tough to top Britain's world champions who also set an Olympic record in their heat win.
The biggest surprise came in the women's quad sculls, with Kerry Hore, Dana Faletic, Amy Clay and Pauline Frasca qualifying for Wednesday's final with a stirring repechage victory.
The men's eights snuck into Wednesday's final by coming fourth in their repechage.
On Sunday night, Christian Sprenger lifted Australian spirits with a surprise silver medal in the men's 100m breaststroke and Alicia Coutts took bronze in the women's 100m butterfly.
Australia's female gymnasts missed out by one point in qualifying for the teams final.
But Lauren Mitchell in the floor and Ashleigh Brennan and Emily Little in the all-around all qualified for their individual finals.
Australian men's volleyball team lost to Argentina in their opening game, while table tennis veteran William Henzell achieved Australia's best Olympic result in the sport in reaching the third round with a win over Portugal's Joao Monteiro, ranked nearly 100 places higher.