SBS Radio News
PNG logs going to foreign interests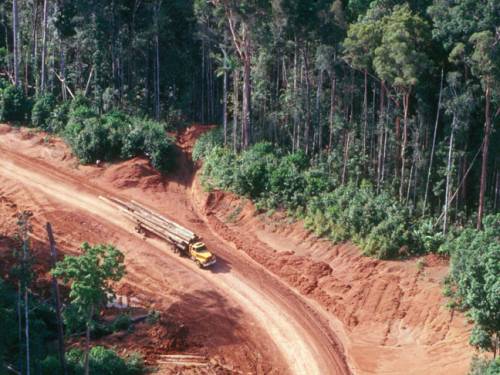 An estimated 5.1 million hectares of Papua New Guinea's customary land has been given to mostly foreign-owned companies under special leases.
An estimated 5.1 million hectares of Papua New Guinea's customary land has been given to mostly foreign-owned companies under special leases which allow wholesale logging, Greenpeace says in a new report.
Using data and mapping analysis and drawing on yet to be tabled findings from a recent government inquiry, Greenpeace's Up for Grabs report also shows that 75 per cent of Special Agricultural Business Leases (SABLs) are controlled by foreign-owned companies - most of which are dominated by Malaysian and Australian interests.
SABLs are 99-year leases on land, however domestic and international critics say it is a cover for wholesale logging of PNG's forests.
Greenpeace says many companies paid government agency staff to undertake statutory duties in investigating and approving SABLs.
In one case, the logging companies paid police to intimidate and brutalise landowners opposed to their land being stolen.
"The land grab in PNG is a national scandal," said Greenpeace Forests Team Leader, Paul Winn in a statement.
"People are losing their land and their livelihoods for up to three generations and their forests forever."
The government of Peter O'Neill in August last year launched a commission of inquiry into SABL's.
The Commission's report was completed in May 2012 but will not be made public until it is tabled in Parliament by the newly elected Prime Minister in the second half of 2012.
Mr O'Neill is expected to officially form a new government on Friday.
The Greenpeace report, which draws heavily on testimony to the commission found PNG log exports grew by almost 20 per cent in 2011, due almost entirely to logging within SABLs.
Since 2006, logging companies have exported over 1.5 million cubic metres of whole logs from SABLs, amassing over 290 million kina ($A135 million) for the companies involved, while almost all these logs were exported to China.
The largest 48 SABLs - 95 per cent of the total leased area - include almost 14 per cent of the remaining 14.7 million hectares of intact forest landscapes in PNG.
"These are the least developed forests in PNG," Greenpeace said.
SABLs also include over 130,000 hectares of PNG's protected forests.
Greenpeace also says the leased areas contain 12 per cent of the almost 7 billion tonnes of above ground carbon stored in PNG's forests.
"If these SABLs were logged and then deforested, almost three billion tonnes of CO2 would be released - this is equivalent to Australia's total CO2 emissions for the next six years," Greenpeace said.
In November 2010 PNG's then Secretary of the Department of Justice and Attorney-General, Dr Lawrence Kalinoe, told a public seminar a commission of inquiry must be launched into the Lands Department because these leases were highly dubious.
"The department is entirely corrupt," Dr Kalinoe said at the time.
"Officers and certain rogue landowners are colluding and conniving with each other to sell off customary land for their own benefit and interest while the majority of landowners are left out."