SBS Radio News
Terracotta pots concealed drugs: police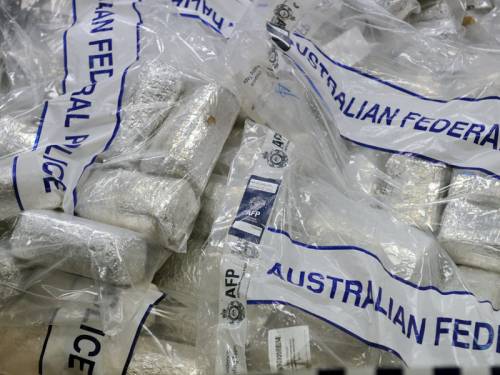 Hong Kong nationals, Sydney locals and terracotta pots were all involved in a $500 million importation of ice and heroin, authorities say.
It looked like a bake sale, but inside the stacks of aluminium-wrapped loaf-shaped parcels was half a tonne of heroin and ice, worth half a billion dollars.
Seven men, including four Hong Kong nationals and three Australians, appeared in a Sydney court on Tuesday charged with offences relating to an alleged international drug-smuggling syndicate.
They were arrested on Monday in raids on eight Sydney premises.
Officers from the Australian Federal Police (AFP) and Australian Customs and Border Protection seized the drugs from an inner-city warehouse.
The drug parcels had been shoved into 100 large decorative terracotta pots, sealed with putty and hidden in a shipment of 3200 pots that arrived in Sydney two weeks ago.
Customs officers inspected the two shipping containers at Port Botany Container Examination facility.
Rather than seizing the drugs, the AFP conducted "a controlled delivery operation" to the warehouse.
"There's a significant arm of organised crime in this country that reaches out to its overseas networks to source these drugs," customs deputy chief executive Mike Pezzullo told reporters in Sydney.
Authorities would not divulge the origin of the shipment, but Andrew Colvin, AFP deputy commissioner of operations, said more arrests in Australia and overseas could emerge.
"At the end of the day, there's lots of `Mr Mediums' and `Mr Littles' that work with `Mr Bigs', Mr Colvin said at a media conference where the drugs were displayed under the guard of armed officers.
"I think that we've got a good combination of the people responsible for this."
Authorities seized 306kg of ice and 252kg of heroin with an estimated street value of $500 million.
It was largest ice importation seizure in AFP history and the third largest heroin seizure.
"Countless lives would have been affected had this seizure made its way to Australian streets," Mr Colvin said.
"Whether it be the users, the healthcare workers that deal with drug issues each and every day, or the family that has been torn apart through illicit drug use."
In January, Customs identified a number of people believed to be associated with the international ring, following a tip-off in 2011 from the US Drug Enforcement Agency.
The four Hong Kong nationals resided at an apartment in Sussex Street, in Sydney's CBD, court documents show.
"They played a variety of roles from facilitating the import to unpacking and handing the narcotics over to ... runners," Mr Colvin said.
Two of the Australian men were arrested at Green Valley, in Sydney's southwest, where 6kg of the ice was seized.
The third man lived at nearby Fairfield.
All of the men appeared in Sydney's Central Local Court and none applied for bail, which was formally refused.
They will appear in the same court on October 17.