SBS Radio News
Vic taxi industry shaken by murder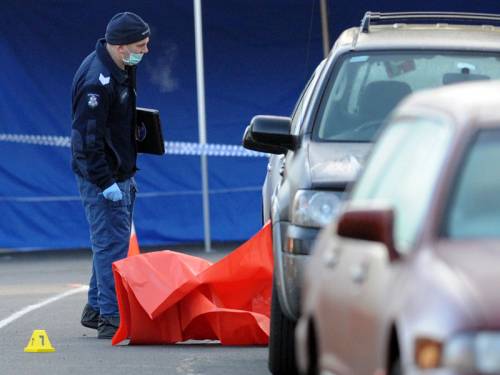 The brutal death of a Melbourne taxi driver has shaken the industry, with officials examining safety issues again.
Victoria's taxi industry is in an uproar after veteran driver Stephen George Seymour, 56, was brutally stabbed to death by a passenger.
His body was discovered about 3am (AEST) on Wednesday, slumped between two parked cars.
Mr Seymour, from the bayside suburb of Elwood near Melbourne, has a child and former wife who now live overseas.
His taxi was found minutes after he was killed, crashed into a power pole about 4km away from the Mount Waverley crime scene in the city's southeastern suburbs.
The crash killed a man seated behind the wheel and the car burst into flames.
Police are investigating if the man found dead inside the wreckage had earlier been picked up in the city, then killed Mr Seymour in Mount Waverley before fleeing and crashing in his taxi.
Homicide Detective Senior Sergeant David Snare said no other suspects were being sought over the double fatality.
"It appears as though we have a taxi driver going about his lawful business and for whatever reason, there's been some sort of confrontation and he's now deceased," he said.
Both the state government and opposition on Wednesday backed tougher safety measures for taxi drivers.
"As far as I'm concerned, nothing's off the table," Premier Ted Baillieu said upon hearing of the slaying.
One of the measures being mooted is New York-style protective car shields.
Adopting the larger shields would fully separate passengers from drivers for the first time, as recommended in a recent industry review.
"We are certainly open to that conversation," said David Samuel, spokesman for the Victorian Taxi Association (VTA).
"On most Saturday nights there would be a driver assaulted in a serious manner ... We think it's reached a point where we need to sit back and have a deeper look at this issue."
In 2008, new state laws forced taxi operators to buy smaller shields for drivers that do not fully separate them from passengers.
But nearly four years later, many drivers are still not using the shields because they are not mandatory.
The VTA says some drivers do not install shields because they interfere with air conditioning, prevent seats from reclining and cause problems in communicating with passengers.
Mr Seymour's employer said he was a 30-year veteran who had installed both external and internal cameras on his vehicle.
"We're very confident there'll be footage of everything that happened," 13 CABS chief operating officer Stuart Overell told Fairfax Radio.
Police have not yet identified the man who died in the taxi.