SBS Radio News
Opp wants PM to lead on gay marriage issue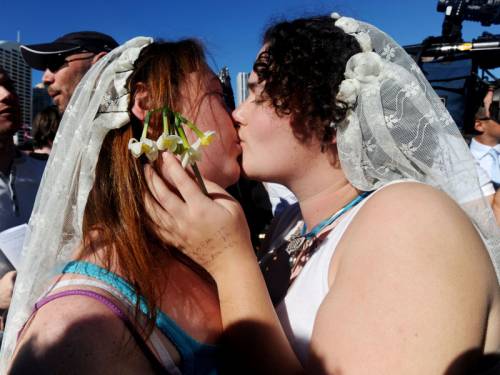 Tasmania's proposed gay marriage laws are likely to be challenged in the High Court, but change is coming, says Premier Lara Giddings.
Senior federal Liberal Eric Abetz says the prime minister needs to show leadership and shut down Tasmania's plans to legalise same-sex marriage.
"Julia Gillard should come out and say I've made my position clear, the federal law is clear and therefore we will have it struck out in the High Court," he told The Australian.
Tasmania could have Australia's first state-based gender-neutral marriage act by the end of the year, following a decision by the ALP's state conference on the weekend.
"It is not about picking fights, it is about doing what you think is right," Tasmania Premier Lara Giddings told the ABC on Monday.
"This is social change which I believe will happen. My hope is that it will happen now rather than later."
Ms Giddings says she has legal advice saying there is nothing to stop Tasmania from being able to pursue the issue.
"It may well end up in the High Court and, of course, the High Court will be the final arbiter in the matter."
That's exactly where the federal opposition wants the move quashed, calling on the federal government to initiate legal action.
Leading constitutional lawyer George Williams also says the matter is likely to end up before the High Court.
"My view is that the state law would stand in any challenge in the courts, but this is something that could ultimately only be determined by the High Court," he told the ABC.
The ACT government is keeping a close eye on what happens in Tasmania, as the territory's Legislative Assembly prepares to debate draft laws for same-sex civil unions later this month.
"We certainly don't rule out going down that same path at some point," Attorney-General Simon Corbell told ABC Radio.
Federal Labor MP Ed Husic says he doesn't see the point in any state or territory making legislative changes laws when the federal parliament intends to have a conscience vote on the issue.
"Instead of having 50 million of these debates occur all over the place, just manage it in the way it is supposed to be - under the federal act," he told Sky News.
The Australian Christian Lobby (ACL) says Tasmania Labor's decision has been driven by propaganda and misinformation.
"Once ordinary people start to focus on the actual consequences of redefining marriage ... I think we'll have a more mature debate than the one that's been couched in the slogans," ACL spokesman Lyle Shelton told Sky News.
Alex Greenwich from Australian Marriage Equality was unsurprised by the ACL's opposition, predicting it would "throw everything at this".
"But I'm also confident that their actions will just be remembered as a speed bump on a way to a reform that will happen," he said.