SBS Radio News
Hiroshima: 67 years since the A-bomb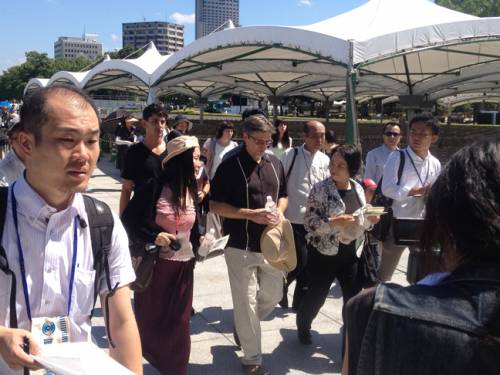 In Hiroshima for the lead up to today's anniversary of the atomic bomb that killed 140,000 people, SBS reporter Andy Park visits the bomb's epicentre, now a peace park, where today thousands gather in remembrance.
By Andy Park, Japan.
It was a stifling hot summer's morning just like today.
Several false air raid alarms made the 350,000 citizens of the industrial garrison city of Hiroshima dismissive of any real threat.

In fact, the city has been spared of conventional bombing raids for weeks in preparation for the Enola Gay's catastrophic payload.

At precisely 8.15am, 67 years ago today, some 140,000 people would die as a result of the first atomic bomb ever used in warfare.

Today, dignitaries and thousands of hibakusha or "explosion-affected people" are gathering for a remembrance ceremony in Hiroshima's Peace Park.

The bomb exploded 600 metres above where the park now stands.

One second after explosion, a 280-metre wide hypocentre brought the surface temperature to about 5,000 degrees.

Sand turned to glass. Iron girders bent like reeds. Human bodies were vaporised into stone building façades, creating ghostly shadows.

Window glass was pushed though the air so swiftly that those lucky enough not to be instantly incinerated would find glass embedded in their bodies decades afterwards.

The patterns of ladies kimonos were burned into their backs, creating morbidly pretty keloid scars of flowers and songbirds.

Around 30 victims were flown to be treated in the US in the years to come, a symbolic gesture amid the storm of criticism aimed at the US.

Among the innocent women and children who were supporting the war effort, many forced labourers from Korea and Taiwan, even some American POWs were among the victims, according to some reports.

The peace park's centrepiece is a museum, whose open rhetoric about nuclear disarmament seems like hokey nostalgia, considering Japan's more recent brushes with nuclear tragedy.

Anti-nuclear rallies triggered by last year's atomic crisis at the Fukushima Daiichi plant are expected alongside the anniversary events in Hiroshima, a long-time focal point for the global movement against nuclear weapons.

But among other foreign guests is Clifton Truman Daniel, the grandson of former US president Harry Truman, who authorised the bombing of Hiroshima and the port city of Nagasaki three days later.

He is the first Truman relative to attend the anniversary event in Japan.
Your Comments
Join the Discussion