SBS Radio News
Port seek new AFL coach after axing Primus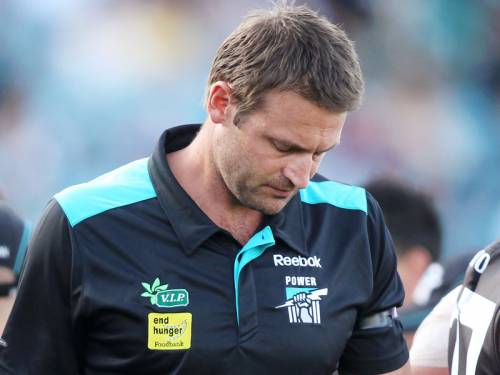 Port Adelaide are looking for a new AFL coach after sacking Matthew Primus, who has been replaced for the rest of the season by assistant Garry Hocking.
Port Adelaide are searching for a new senior coach after sacking Matthew Primus following an embarrassing AFL loss to Greater Western Sydney.
Chief executive Keith Thomas said the club would seek to appoint the best available candidate, regardless of whether that was an experienced AFL coach or not.
"We need the best possible person for the job. We'll go through that process, evaluate the field and make that choice," he said.
"The most important aspect of the next coach is his ability to deliver a result and develop this list and this program to maximise it to the fullest extent.
"It will be about delivering results."
Thomas rejected the club was in crisis but revealed a full review of its administration and football operations - including its playing list, coaching staff, recruitment and game style - had been underway for some time and would shape decisions going forward.
"Today's actions reflect decisiveness and strength," he said.
"The reality is we're not where we want to be and we're on a journey to a significantly-better performing program.
"We have advanced that course in the past 12 months. To ensure that we continue to progress at the appropriate level, we need a change at the senior coaching level."
Thomas said the club's decision to axe Primus, a former captain of the side who took over from Mark Williams in 2010, was not a knee-jerk response to the 34-point loss to the Giants, though he conceded that served as the "public tipping point".
"It's never about a knee-jerk reaction to a single match," Thomas said.
"I had become increasingly concerned about our inability to remain highly competitive in games and the consistency of our performances has been undermining us most of the year."
Following the decision to sack Primus, club president Brett Duncanson also announced his decision to stand down at the club's annual meeting in December.
Duncanson broke down as he thanked the club's staff, players, supporters and his family and said it was time for someone with a "fresh set of eyes and a new energy" to take over his role.
Primus will be replaced for the last four games of the 2012 season by assistant Garry Hocking.
Primus said he was disappointed to leave on such a note after serving as a player, captain and coach.
"It's a high performance industry and you've got to perform at a certain level week in, week out," he said.
"You can't take your foot off the accelerator."
His coaching record is just 13 wins from 47 games.