SBS Radio News
15 die in Philippines floods, landslide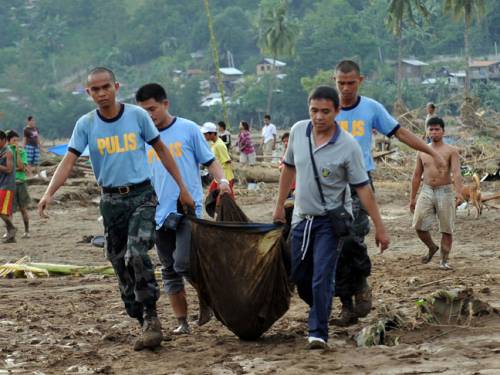 Government offices, courts and schools have been suspended in many areas of the Philippines after deadly rains caused dams and rivers to overflow.
Fifteen people have died and 130,000 have been displaced by floods and landslides caused by heavy rains in the Philippine capital and several provinces, officials say.
Government offices, courts and schools were suspended in Manila and nine northern provinces after rain since Sunday night caused major dams and rivers to overflow.
The president's office on Tuesday also ordered private businesses to close, while the Philippine Stock Exchange suspended trading.
Up to 50 per cent of metropolitan Manila - an area of about 12 million inhabitants - was flooded, according to Benito Ramos, head of the Office of Civil Defence.
"It was like water world out there," he said.
Ramos said 58,237 people abandoned their homes to stay in evacuation centres in Manila and other affected provinces, while 70,800 took shelter with their relatives or friends.
Many roads in the capital were impassable as floodwaters reached 2 metres in some areas.
Hundreds of commuters and scores of cars were stranded in swamped streets across Manila, which was recovering from its soaking by Typhoon Saola last week.
Eight people including five children were killed when a landslide buried three houses in a village in the Manila suburb of Quezon City, according to Mayor Herbert Bautista.
Three people drowned in Bulacan province, north of Manila, according to provincial police director Fernando Mendez.
In Batangas province, two girls aged 7 and 9 drowned while trying to cross a swollen river, police said.
One man died after he was electrocuted and an 80-year-old man drowned in nearby Malabon City, authorities said.
Residents trapped on rooftops called radio and television news networks to seek help.
"Please send help, I'm getting really worried," said Charlie Mullon, who was trapped with 20 people, including four children, on a roof in the Manila suburb of Quezon.
"The current of the floodwaters is very strong."
"Other neighbours are also on their rooftops, but there has been no rescue," he told a local cable news channel.
Television footage showed people waving from rooftops and rescuers using inflatable rafts to evacuate residents in other areas.
In one area, rescuers had to cross a rope tied above a flooded street to get shivering residents to safety.
Authorities began to evacuate areas on Monday evening after the weather bureau warned of floods, but many residents did not heed the warnings.
"Some people are still so hard-headed," one village captain from the Manila suburb of Marikina told a local radio station.
"We have been going around since last night, telling people to evacuate. We did our jobs."
One social worker expressed frustration with some residents at risk.
"I thought I was going to die helping people flee the floods last night. And then they returned to their homes this morning and now are seeking help again."
In 2009, Marikina was affected by the worst floods in decades in Manila caused by Typhoon Ketsana, which left 500 people dead and missing.
The weather bureau said the rains were caused by the south-west monsoon enhanced by Typhoon Saola that battered the northern and central Philippines last week, killing at least 53 people in floods and accidents.
Better weather was expected on Thursday, the bureau said.