SBS Radio News
Pearson and Meares double Aussie golds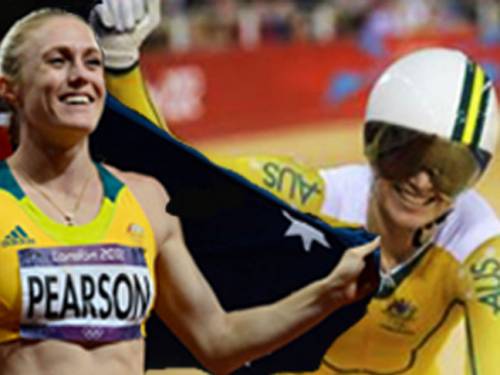 Hurdler Sally Pearson and cyclist Anna Meares won gold medals as Australia enjoyed its most successful day of the London Olympics on Tuesday.

Steely Sally Pearson and iron-willed Anna Meares turned mettle into precious gold on Australia's most successful day of the London Olympics on Tuesday.
Pearson dramatically won the 100m hurdles gold medal while Meares triumphed in her golden grudge match against Brit Victoria Pendleton in cycling's sprint final.
The determined duo doubled Australia's gold medal tally at the London Games, the nation now with four gold, 12 silver and nine bronze to sit 11th on the overall table.
Cyclist Annette Edmondson added another bronze in the women's omnium, the only other Australian medal on Tuesday.
Pearson had rehearsed her race daily in her mind for years, but come the victory moment didn't know how to react.
After displaying her customary cold countenance pre-race, Pearson was forced to wait agonising seconds to find out if she won.
The Queenslander beat American Dawn Harper by just two-hundredths of a second and defied drizzly rain to clock a new Olympic record, 12.35 seconds.
When the result flashed onto the scoreboard Pearson screamed in delight, sank to her knees, crying - then onto her back, then crouched on the track before turning to the crowd.
"When I saw my name on the screen at No.1, it was a dream come true," Pearson said.
"I had a bit of a panic, but I knew in my heart I'd won it and it was just a matter of confirming it on the screen.
"The feeling is just relief. I'm so happy."
Pearson's success came within hours of Meares' pluck being rewarded with gold at the cycling track.
Meares was beaten by Pendleton in the sprint final in Beijing, just seven months after breaking her neck.
She sensationally turned the tables in London by outclassing her British rival twice in a row in the best of three final, the first race result - when Pendleton narrowly beat Meares - being overturned by the race judges after the Brit rode out of the sprinter's lane.
"This is the sweetest and most incredible victory of my career," said an emotional Meares.
In other Tuesday action, Australia's world No.1 men's hockey team trounced Pakistan 7-0 to remain unbeaten and progress into Thursday's semi-final.
But coach Ric Charlesworth has been involved in too many Olympic let-downs to read anything into their undefeated streak.
"I don't think that means anything ... now this is a separate tournament," Charlesworth said.
Australia's women's basketball team also advanced into a semi-final by downing China 75-60 on Tuesday.
The Opals, inspired by Liz Cambage's 17 points and seven rebounds, booked a Thursday semi-final against gold medal favourites the United States.
But Australia's women's water polo team were heartbroken after losing their semi-final to the USA in extra time.
The Americans, who sunk the Stingers in a semi-final at the Beijing Games, prevailed 11-9 in London.
Australia's Big Benn Harradine finished ninth in the discus final, and diver Ethan Warren came seventh in the men's 3m springboard final.
Artistic gymnast Lauren Mitchell lamented minor blemishes in the floor final, the former world champ finishing fifth - two-thirds of a point shy of the medals.
Australian Courtney Atkinson was the nation's best finisher in the men's triathlon, placing 18th as Brit Alistair Brownlee won gold and his younger brother Jonathon collected the bronze.
And Australia's K4 sprint canoeists upset world champions Germany en route to making Thursday's medal race at Eton.
The crew of Murray Stewart, Tate Smith, David Smith and Jake Clear will battle Slovakia and Hungary in the final.