SBS Radio News
NASA mission gives a peek of rover's Mars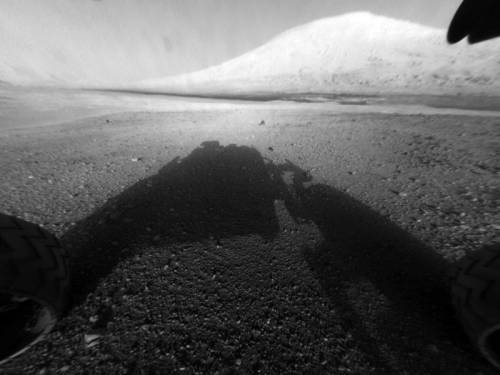 Curiosity has sent back nearly 300 thumbnails showing the last two-and-a-half minutes of its white-knuckle dive through the thin Martian atmosphere.
NASA's latest adventure to Mars has given the world more than just glimpses of a new alien landscape.
It's opened a window into the trip itself, from video footage of the landing to a photo of the rover hanging by a parachute to a shot of discarded spacecraft hardware strewn across the surface. And the best views - of Mars and the journey there - are yet to come.
"Spectacular", mission deputy project scientist Joy Crisp said of the footage. "We've not had that before."
Since parking itself inside an ancient crater on Monday, the Curiosity rover has delighted scientists with views of its new surroundings, including the 4.83km-high mountain it will drive to. It beamed back the first colour picture on Tuesday revealing a tan-hued, pebbly landscape and the crater rim off in the distance.
Locale aside, Curiosity is giving scientists an unprecedented sense of what it took to reach its Martian destination. The roving laboratory sent back nearly 300 thumbnails that NASA processed into a low-quality video showing the last two-and-a-half minutes of its white-knuckle dive through the thin Martian atmosphere.
In the video, the protective heat shield pops off and tumbles away. The footage gets jumpy as Curiosity rides on a parachute. In the last scene, dust billows up just before landing.
NASA twice tried to record a Mars landing. In 1999, the Mars Polar Lander carried similar gear, but it slammed into the south pole after prematurely shutting off its engines. Another effort was aborted in 2008 during the Phoenix lander's mission to the northern plains when mission managers decided not to turn it on for fear it would interfere with the landing.
The full high-resolution video will be downloaded when time allows and should give the first peek of a landing on another planet.
Curiosity's journey to Mars spanned eight months and 566 million kilometres. The rover gently touched down on Monday after executing an elaborate and untested landing routine. The size of a compact car, it was too heavy to land using air bags. Instead, it relied on a heat shield, parachute, rockets and cables to lower it to the ground.
The nuclear-powered, six-wheel Curiosity will spend the next two years chiselling into rocks and scooping up soil at Gale Crater to determine whether the environment ever had the right conditions for microbes to thrive. It will spend a chunk of its time driving to Mount Sharp where images from space reveal signs of past water on the lower flanks.