SBS Radio News
WA's top cop won't work with complainant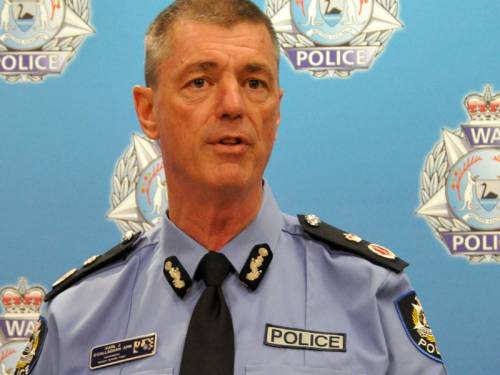 WA Police Commissioner Karl O'Callaghan has been cleared of misconduct, raising questions about the future of the police official who complained about him.
Western Australia's top cop says he won't be able to work with a senior colleague who complained about him to the Corruption and Crime Commission (CCC).
The CCC report into allegations that WA Police Commissioner Karl O'Callaghan misused his credit card was publicly released on Wednesday and cleared him of misconduct, as foreshadowed in a statement by the watchdog in mid-June.
The commissioner said he felt "kicked in the guts" that WA Police executive director Gregory Italiano, with whom he had worked for many years and considered to be a friend, had made the complaints, which were "without foundation" and "ill-conceived".
The commissioner was incensed by Mr Italiano's assertion that he "lacked an ethical compass".
"It's obviously untenable. We won't be able to work together in the future but his future is not something I can make a decision on," Dr O'Callaghan said.
"It will have to be managed by the Public Sector Commissioner.
"I don't think it's a matter of me going."
Dr O'Callaghan said he didn't know why Mr Italiano - who started leave on Tuesday - had also complained about the commissioner's role in a rock band called The Filth.
"That band only ever plays for charity," he said.
"No public monies have been expended where it is not connected with official police business."
He didn't speculate on Mr Italiano's motive but said the timing was "interesting" given Dr O'Callaghan's contract expires this month.
The WA government says it is now in a position to consider Dr O'Callaghan's reappointment.
Cabinet will discuss his tenure on Monday.
Dr O'Callaghan said he had to maintain good grace throughout the 10-month investigation and noted that "scuttlebutt" surrounding it had not been only in the public domain, but also inside the police force.
While the report said Mr Italiano's allegations could not be substantiated, it made five recommendations for improving the administrative process within the state's police service, which the WA government said it supported.
"I accept those as well," Dr O'Callaghan said.
"There's no doubt that when you go through all these things, you can find anomalous practices and the important thing is we respond to those and fix them.
"One of the things that's clear from this report is the way that things were processed in the office upstairs were not good, and we have to appoint a specialist to manage those things properly."
Like a company chief executive, he could not be "across every small transaction".
The Public Sector Commission and CCC both said administrative practices were not the fault of the commissioner.
"And the commissioner of police is entitled to rely on advice on compliance and that things are being done properly," Dr O'Callaghan said.