SBS Radio News
Russian punk protest trial wraps up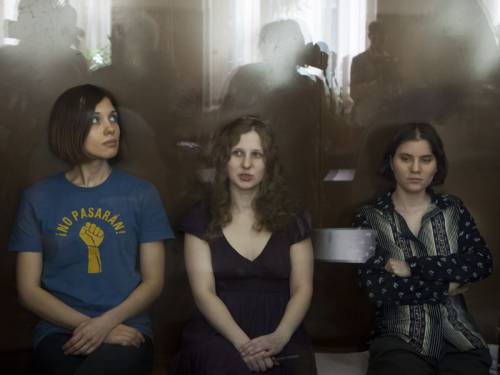 A Moscow judge says she will hand down a verdict in the trial of three feminist punk protesters next week.
A Moscow judge has wrapped up the trial of three feminist punk rockers and says she will issue a verdict in the controversial case next week.
Prosecutors have called for three-year prison sentences for the Pussy Riot band members, who have already been in custody for five months after giving an impromptu performance in Moscow's main cathedral to call for an end to Vladimir Putin's rule.
The three women - Nadezhda Tolokonnikova, 23, Maria Alekhina, 24, and Yekaterina Samutsevich, 29 - high-kicked and danced as they belted out their "punk prayer" in Christ the Saviour Cathedral in February.
They were charged with hooliganism motivated by religious hatred, which carries a maximum sentence of seven years.
Tolokonnikova, dressed in jeans and a blue T-shirt, said in a trembling voice, looking at prosecutors: "We have more freedom than all those people from the prosecution in front of me - because we can say what we want."
Putin last week criticised the Pussy Riot stunt, but said they should not be judged too harshly.
Defence lawyer Nikolai Polozov said on Wednesday that Putin's remarks indicated "he virtually has found them guilty already and only meant to say that the court's punishment shouldn't be too harsh".
The defence lawyers said that activists around the world will show their solidarity with the band by holding a global protest on August 17, the day Judge Marina Syrova is to issue her verdict.
Amnesty International has called the women prisoners of conscience. Musicians including Madonna, the Who's Pete Townsend and Neil Tennant of the Pet Shop Boys have urged their release.
During a Tuesday night gig in Moscow, Madonna had the words "Pussy Riot" written on her bare back and also donned a balaclava - symbol of the band. The punk rockers perform in bright-coloured homemade ski masks.
Early in the trial, the band members apologised to all Orthodox believers, saying that they did not mean to offend anyone and that their performance was aimed against Putin and Russian Orthodox Patriarch Kirill, who had urged Russians to vote for Putin.
Prosecutors and lawyers for church employees, who were described as the injured party in the case, insisted they saw no political motives behind the band's actions, only blasphemy and hatred toward Orthodox believers.
"How did it happen that our performance, which was a small and clumsy stunt, brought so much trouble?" Alekhina told the court. "How can this happen in a healthy society? And now it takes thousands of people around the world to prove the obvious, to prove that the three of us are innocent."
Supporters in the courtroom greeted Alekhina's speech with enthusiastic applause, to which the judge responded: "This is not a theatre."
About a dozen Pussy Riot supporters also gathered outside the courthouse, and at least three, including a protester wearing a balaclava, were detained.