SBS Radio News
Asylum bill: Opposition 'will back govt plan'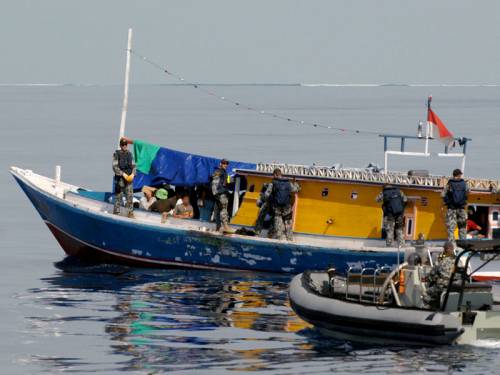 Immigration Minister Chris Bowen says the opposition has agreed to support the government's asylum seeker bill.
Immigration Minister Chris Bowen says the opposition has agreed to support the government's asylum seeker bill.
Australia could be sending asylum seekers to Nauru and Papua New Guinea within a month, Prime Minister Julia Gillard says.
The long-running asylum seeker policy deadlock looks to be broken after the government agreed to an expert panel's recommendation to process asylum seekers on Nauru and on PNG's Manus Island.
Ms Gillard says the defence force has told her it can construct temporary facilities in both locations while the main centres are being reopened.
"That means that within a month we would hope to see people being processed in Nauru and in PNG," she told reporters in Canberra on Tuesday.
"That's clearly subject to the work of the recon teams that could go as early as Friday."
Ms Gillard said Immigration Minister Chris Bowen had been talking with his Coalition counterpart Scott Morrison about further amendments to legislation that would allow offshore processing to proceed.
Ms Gillard said she wanted a vote on the legislation in the House of Representatives later on Tuesday.
"The time for politics is over, the time for action is here. It's time to get this legislation amended. "We want this legislation through."
Ms Gillard met with the defence force chief General David Hurley in Canberra on Tuesday to discuss logistics.
She also spoke with the president of Nauru and PNG's prime minister by phone. "Both of them have been positive about hosting (processing) centres," Ms Gillard said.
"Both of them have said if legislation passes this week they would welcome the reconnaissance teams from our defence force on Friday.
They also had indicated they would work with the reconnaissance teams and with defence to facilitate the establishment of temporary facilities, Ms Gillard said.
Initial facilities in Nauru and PNG could involve tents and other temporary structures.
Ms Gillard said the time for "politics, the political scoring, the yelling, the shouting" was over.
"We need this legislation to pass the parliament so that we can get on with that action," she said.
The prime minister could not confirm 44 Coalition MPs had been listed to speak on the government's legislation.
"My understanding is the opposition has quite a large number of people who have put their names on the speaking list," she said.
Ms Gillard would not say whether she was comfortable with the prospect of asylum seekers being held offshore for up to 10 years.
The government would take careful advice from the United Nations refugee agency (UNHCR) before determining any time frame, she said.
"It's fundamental to the proposition in the panel's report that you don't get an advantage because you have got on a boat.
"Now there's a need to implement that and work through what it means and what processing times are in our region for example."
The number of boatpeople coming to Australia this year has reached more than 7,500, already an all-time high, but the government acknowledges that not all boats successfully complete the journey, with hundreds drowning en route since 2001.

More than 600 Australia-bound asylum-seekers are thought to have perished at sea since October 2009 and Home Affairs Minister Jason Clare said that another 67 asylum seekers were likely to have died more recently.

Customs are investigating reports that a boat left Indonesia, a main transit hub for boatpeople fleeing Afghanistan, Iraq, Iran and Sri Lanka, in late June but has not been heard from since.

"Unfortunately have not found any evidence that those people have arrived in Australia," Minister Clare said.

"We're checking with Indonesian officials as well but unfortunately at the moment there's no evidence that those people have arrived in Australia. So 67 people for whom we hold very grave fears at the moment."
Your Comments
Join the Discussion