SBS Radio News
Syria fighting intensifies after rebels claim jet downing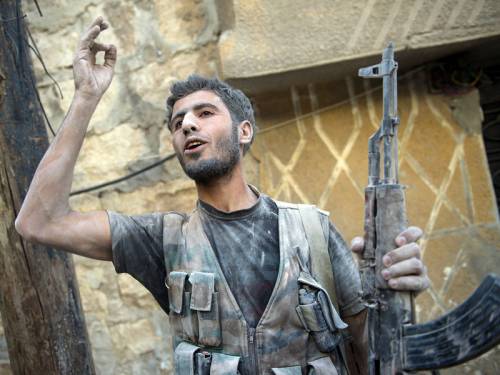 Fighting intensified in Syria's two main cities on Tuesday after rebels claimed they downed a government fighter jet and captured its pilot in what would be a major coup for the opposition.
Fighting intensified in Syria's two main cities on Tuesday after rebels claimed they downed a government fighter jet and captured its pilot in what would be a major coup for the opposition.

With Bashar al-Assad's embattled regime facing mounting diplomatic pressure, a top presidential aide was dispatched to China, which has called for an immediate ceasefire and political dialogue to end the brutal 17-month conflict.

China and Russia are deeply at odds with the West over how to end the bloodshed, after both traditional Syria allies vetoed UN Security Council resolutions, leaving the international community deadlocked on the crisis.

Assad advisor Bouthaina Shaaban is to hold talks with Foreign Minister Yang Jiechi and other officials, the foreign ministry said, adding that Beijing was also considering inviting members of the Syrian opposition to visit soon.

UN humanitarian chief Valerie Amos also arrived in Damascus on a regional visit "to draw attention to the deteriorating humanitarian situation" and discuss ways of scaling-up relief efforts, her office said.

Over one million people have been displaced by the fighting and another 140,000 have fled to Syria's neighbours, the UN says, many of them living in tent camps in sometimes miserable conditions.

Many areas engulfed in the relentless fighting in Syria are also facing a desperate plight, suffering from food shortages, power outages and lack of medical supplies.

Damascus is also facing pressure from fellow Muslim states as the Organisation of Islamic Cooperation (OIC) meets in the Saudi City of Mecca to discuss a recommendation for Syria to be suspended from the 57-nation body.

But Iran -- Damascus's closest ally -- is vehemently opposed.

"We certainly do not agree agree with the suspension of any OIC member," Iranian Foreign Minister Ali Akbar Salehi said Monday. "We have to look for other ways, means and mechanisms for resolving conflicts and crises."

On Monday, the rebel Free Army claimed it had shot down a government warplane in the eastern province of Deir Ezzor and issued a video of a man it said was the captured pilot.

FSA spokesman Kassem Saadeddine identified the pilot as Colonel Mufid Mohammed Sleiman and said he was a member of Assad's Alawite minority community and a "staunch enemy of the revolution".

If confirmed, it would be the first time the rebels -- who have been demanding anti-aircraft weapons in the face of escalating attacks from the sky -- succeeded in downing a government plane since the conflict erupted.

State media said only that plane had crashed after suffering technical problems and that the pilot had ejected.

Washington, which last week slapped new sanctions on the regime as it campaigns for the ouster of Assad, said the government was employing more air power in its war on the rebels.

-- 'Troubling uptick in air attacks'--

"We've seen a very troubling and despicable uptick in attacks from the air, perpetrated by the Syrian regime," Pentagon spokesman George Little told reporters.

Asked if the Pentagon was moving towards enforcing a possible no-fly zone, he said: "We plan for contingencies."

White House spokesman Jay Carney said the administration has "ruled out no option" in trying to bring about a political transition, but did not explicitly refer to a no-fly zone.

Opposition umbrella group the Syrian National Council also issued a new appeal for the establishment of no-fly zones similar to those set up over Libya during last year's conflict.

On the ground, fresh fighting erupted in Aleppo, where the army shelled several rebel-held areas, the Syrian Observatory for Human Rights said, after a bloody day Monday in which 160 people were killed nationwide.

Fighting was centred in the southwestern districts of Saif al-Dawla and Salaheddin, which was captured from the rebels by government forces last month, it said, while other districts in the east were hit by shelling.

Pro-government daily Al-Watan said "the army has deployed but a fraction of its forces" and that the seizure of Salaheddin was "merely a step" before the army retook all rebel areas.

The metropolis -- where communications have been cut for at least three days -- is seen as pivotal to the outcome of the conflict, with some referring to it as Syria's Benghazi, the Libyan city that was the cradle of the revolt that toppled Moamer Kadhafi's regime.

In Damascus, residents fled the central neighbourhood of Qaboon, fearing a major military onslaught, as security forces raided at least two other districts, while several suburbs outside the capital were shelled, the Observatory said.

Government forces had launched a major sweep of the capital Monday, including the historic Old City, arresting at least 22 people, according to the Observatory.

The conflict has killed over 21,000 people since March last year, according to activists, while Assad's regime -- deeply rattled by a July bomb attack that killed top security officials -- is also suffering a wave of defections.