SBS Radio News
Syria: Brahimi wants UN support as peace envoy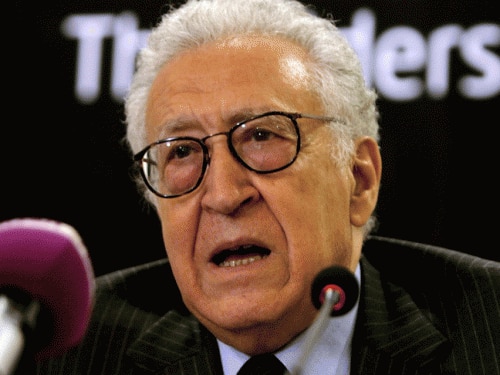 Lakhdar Brahimi has the acceptance of Syria as a mediator but wants the full and open support of the UN Security Council before he agrees to replace Kofi Annan.

Syria would accept Lakhdar Brahimi as the new UN-Arab League mediator, but the veteran envoy wants formal UN Security Council support before accepting the post, diplomats say.
The 15-nation Security Council is deeply divided over the Syria conflict and Brahimi has sought a gesture of "strong support" as a condition for taking over from Kofi Annan, a UN diplomat said on Tuesday on condition of anonymity.
That demand was confirmed by other envoys.
The announcement of Brahimi's appointment has been expected for days, but diplomats said the former Algerian foreign minister and UN special representative has not yet given his agreement.
Annan resigned on August 2, complaining of lack of support from the major powers on the Security Council, and will officially stop work on August 31.
Annan's appointment by UN chief Ban Ki-moon was, however, never endorsed by the council even though it expressed strong support in various statements.
Annan's spokesman Ahmad Fawzi said in Geneva that President Bashar al-Assad's government had signalled acceptance of Brahimi as the new mediator.
But he added that "no decision" on the post had been made by Brahimi - who served as UN envoy to Afghanistan after the September 11, 2001 attacks and in Iraq after the 2003 US-led invasion - or Ban.
"Brahimi wants an endorsement from the Security Council," said a second UN diplomat.
"He considers this crucial if he is to stand a chance in the position."
Annan complained repeatedly about divisions on the Security Council and Brahimi said on Friday that the council and regional states "must unite to ensure that a political transition can take place as soon as possible".
With the conflict worsening, the Security Council must also quickly decide the fate of the UN Supervision Mission in Syria (UNSMIS), which was sent to monitor a ceasefire brokered by Annan which never took hold.
The mission's mandate ends on August 20 and the council is to hold consultations on UNSMIS on Thursday. The original 300 unarmed military observers have already been cut back to less than 150 because of the worsening violence and expectations that the mission will be ended.