SBS Radio News
Inglis ready to explode in NRL return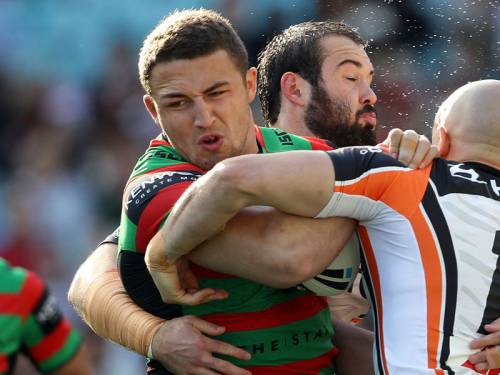 South Sydney teammates have predicted Greg Inglis is ready to fire when he makes his return from NRL suspension against Cronulla this Saturday night.
Suspension forced Greg Inglis to press pause on his bumper NRL season, but his South Sydney teammates sense their superstar fullback is ready to hit the fast forward button in Saturday night's return against Cronulla.
Inglis single-handedly destroyed the Sharks back in round nine in one of the individual performances of the season and the Rabbitohs are confident their key attacking weapon will only get better with the finals in sight.
At the time, he might not have liked the three-week ban handed to him for ironing out St George Illawarra's Dean Young, but an unforeseen freshen-up heading into the playoffs presents a silver lining for Inglis and the Rabbitohs.
Souths co-captain Michael Crocker is sure the rattled Sharks haven't forgotten what Inglis did to them back in May, when he ran in three tries and set up another in a blistering display.
Crocker said Inglis feels settled in his life away from football and that's allowed him to sustain his intensity and focus and go from big-game player to consistent star.
"That's just him this year. That's why he's playing really good football," said Crocker.
"He's happy off the field, loving life, loving life in Sydney. He's really happy off the field with his wife as well so that attributes a lot to how he's performed this year.
"It's great to have him back obviously.
"Obviously he's played a lot of football his whole career so a few weeks has probably done him a lot of good and mentally and physically he'll be feeling good."
Inglis at his devastating best this season has got his hands on the ball as much as his halves and his unparalleled mix of power and speed has done the rest.
The 25-year-old trails only Canterbury livewire Ben Barba for tackle breaks and is also amongst the top five players in the game for most line breaks.
His inspired touches have brought out the best in halves John Sutton and Adam Reynolds and Inglis' presence was certainly missed in the Rabbitohs' disappointing last-start loss to premiers Manly.
Inglis knows what it takes to win those finals-type matches and Sutton says his return is a major confidence booster for Souths as they look to bounce back and cement their place in the top four.
"He's a class player. Before he was suspended he was playing really good footy so he gives the boys a lot of confidence going into this week's game," he said.
"He's itching to get back out there and was buzzing at training yesterday so I'm pretty sure he'll be putting in a big performance this weekend.
"He's that player you just give him the ball and he just does the rest.
"He was hard to stop last time (against the Sharks) so hopefully he can do it again this weekend."