SBS Radio News
Grocers, bankers lead on profits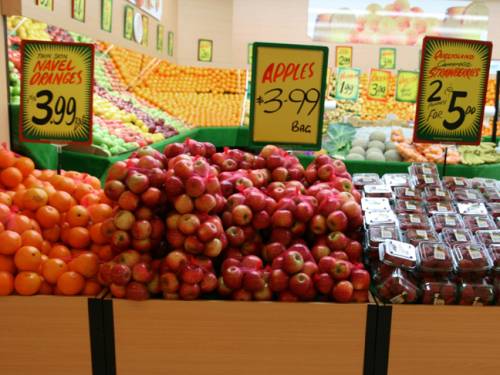 Record bank profits and strong supermarket sales featured in standout company results this week, along with a surprise from the online pizza sector.
A record profit from the Commonwealth Bank and a strong, Coles-driven result from Wesfarmers marked the highlights of company results reports this week.
Australia's biggest bank posted a $7.1 billion profit for the 2011/12 year, an 11 per cent improvement on the previous year which left chief executive Ian Narev feeling obliged to defend the result as good for millions of Australians.
"It is a big absolute number, but we are a big business," Mr Narev said.
Not as big but as impressive was the $2.1 billion profit from Wesfarmers, driven by a 16.3 per cent gain in the conglomerate's Coles supermarkets division, which contributed $1.3 billion in earnings.
Wesfarmers and the banks - ANZ reported a $4.4 billion profit for the nine months to June 30, up 10 per cent - helped lift the share market to a three-month high.
The All Ordinaries Index closed up 91 points or two per cent for the week at 4393.8.
In other results, engineering group Downer EDI, holder of the troubled NSW Government Waratah train building contract, lifted annual profit to $112.8 million, turning around a $28 million loss the previous year.
Downer shares ended the week up 75 cents, or 24 per cent, at $3.87 after chief executive Grant Fenn gave positive guidance for 2012/13.
Gold miner Newcrest beat analyst forecasts with a record full year net profit of $1.12 billion, up 23 per cent from $908 million a year earlier.
Also crowing was Domino's Pizza, which achieved a 26 per cent rise in annual profit to $26.9 million and forecast 15 per cent profit growth for 2012/13.
Online orders, particularly via mobile devices, were a key factor in the pizza chain's success and CEO Don Meij said Domino's sees itself as a digital retailer.
Domino's shares gained 60 cents during the week to end at $9.90.
In a week when markets were lifted by upbeat outlooks, Adelaide Brighton was marked down despite a 10 per cent increase in profit to $67.5 million for the six months to June 30, 2012.
The building products group's managing director, Mark Chellew, said the outlook for the construction market was subdued for the remainder of 2012 and the company's shares ended the week down 30 cents at $2.92.
Insurer QBE boosted net profit for the half year to June 30 by 13 per cent to $US760 million ($A726.33 million) courtesy of higher premiums and fewer claims resulting from natural disasters.
But QBE shares slipped $1.33 for the week to $13.05.
Shares in APN News&Media lost 9.5 cents to 42 cents for the week after it reported a loss of $319.4 million in the six months to June 30.
And Australia's second-biggest DSL internet service provider, iiNet, achieved an 11 per cent rise in net profit for the year to June 30 with a record $37.1 million result.
IiNet shares gained 26 cents for the week to $3.61.