SBS Radio News
Syria fighting rages as refugee numbers soar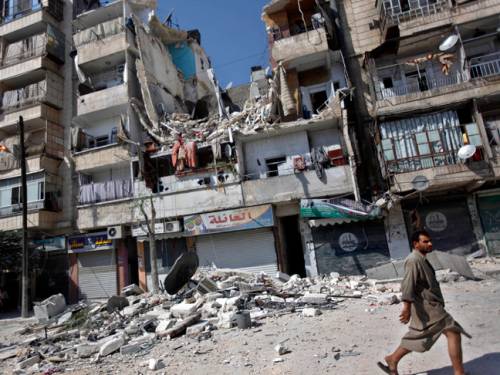 Syrian forces pounded rebel hubs in Aleppo and battled opposition fighters around Damascus, activists said, as the UN reported a refugee surge and named a new envoy to try to end the conflict.
Syrian forces pounded rebel hubs in Aleppo and battled opposition fighters around Damascus, activists said, as the UN reported a refugee surge and named a new envoy to try to end the conflict.

The United Nations announced Friday that veteran Algerian diplomat Lakhdar Brahimi would take over as international envoy from Kofi Annan, who quit earlier this month.

In his first comments, Brahimi admitted he was not confident he would be able to end the 17-month-old conflict.

"I might very well fail but we sometimes are lucky and we can get a breakthrough," the 78-year-old diplomat told the BBC. But "these missions have to be undertaken. We have got to try. We have got to see that the Syrian people are not abandoned".

Within Syria, violence was also reported in other towns and villages across the country with the bloodletting showing no sign of any let-up a day after the United Nations formally declared an end to its observer mission.

"The violence and the suffering in Syria must come to an end," UN chief Ban Ki-moon said in a statement announcing Brahimi's appointment.

Ban called on the international community to give the new envoy "strong, clear and unified" support, after Annan complained that his mission had been hamstrung by the deep rift on the UN Security Council between the West and traditional Damascus allies Beijing and Moscow.

US Secretary of State Hillary Clinton endorsed Brahimi, as the White House asked for answers from the United Nations on his mandate.

Clinton said in a statement the international community "remains fully committed" to bringing about change in Syria and "ensuring that those who commit atrocities will be identified and held accountable".

"My message to Special Envoy Brahimi is simple: The United States stands ready to support you and secure a lasting peace that upholds the legitimate aspirations for a representative government of the people of Syria," she said.

"And to the Syrian people: you are not alone."

Junior British foreign minister Alistair Burt said London "fully supports" Brahimi's appointment, welcoming the "vast experience" he brought to the role.

On the ground, at least 72 people were killed as the regime continued its onslaught on Friday, according to the Syrian Observatory for Human Rights, a watchdog which has a network of activists inside the country.

The army clashed with rebels near the main military airport in Damascus and shelled southern parts of the capital as well as areas of the commercial city of Aleppo and the eastern province of Deir Ezzor, the Observatory said.

Deadly violence was also reported in the provinces of Homs and Daraa, the cradle of the uprising that began with peaceful protests in March 2011 but has escalated into an increasingly vicious battle between armed rebels and government forces.

Opposition factions reported that 65 bodies had been found dumped on a rubbish tip in a town near Damascus, claiming the victims had been bound, executed and set on fire by pro-government forces.

It is impossible to independently verify such claims as journalists are unable to report freely in Syria.

With the international community still deeply divided over how to end the conflict, the UN said the number of Syrians seeking refuge in neighbouring countries had soared to at least 170,000.

"There has been a further sharp rise in the number of Syrians fleeing to Turkey," the UN refugee agency said.

'ASSAD DOESN'T DESERVE TO BE ON THIS EARTH'

French Foreign Minister Laurent Fabius called for President Bashar al-Assad's regime to be "smashed fast" as he visited the largest of the refugee camps in Turkey.

"After hearing the refugees and their account of the massacres of the regime, Mr Bashar al-Assad doesn't deserve to be on this earth," Fabius said.

But Russia rejected a proposal to set up no-fly zones to help fleeing civilians after the United States said it was ready to consider the move.

"You have to solve citizen security issues using methods put in practice by international humanitarian law," Foreign Minister Sergei Lavrov told Sky News Arabia.

"But if you try to create no-fly zones and safety zones for military purposes by citing an international crisis -- this is unacceptable," he said.

More than 23,000 people have died since the revolt against Assad's iron-fisted rule broke out, according to activists, while the UN puts the toll at around 17,000.

Assad has described the conflict as a battle against a foreign "terrorist" plot aided by the West and its allies in the region.

But his minority Alawite-led regime has faced a string of high-level defections, including by prime minister Riad Hijab and senior general Manaf Tlass, and a bomb attack that killed four security chiefs.

"It is clear that both sides have chosen the path of war... and the space for political dialogue and cessation of hostilities and mediation is very reduced at this point," UN assistant secretary general for peacekeeping Edmond Mulet said.

In a damning report this week, a UN panel said government forces and their militia allies had committed crimes against humanity including murder and torture, while also accusing the rebels of war crimes, but to a lesser extent.

As the two sides become more entrenched in Syria, there are fears the conflict could spread further afield, after mass kidnappings in Lebanon in retaliation for events across the border.

The US warned that its nationals face increased threats in Lebanon, including the possibility of targeted kidnappings or terrorist attacks, after several Arab states in the Gulf ordered their nationals to leave.



Your Comments
Join the Discussion