SBS Radio News
Federer, Li win Cincinnati tennis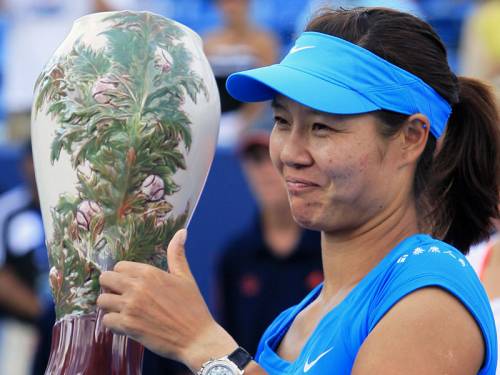 China's Li Na has beaten Germany's Angelique Kerber in the Cincinnati Masters tennis final, while Roger Federer has downed Novak Djokovic in the men's.
China's Li Na won her first tennis title of the season, overcoming an awful first set to beat Germany's Angelique Kerber on Sunday in the final at the Cincinnati Masters.
After finishing second three times this season, Li finally lifted a trophy with her 1-6 6-3 6-1 victory. She lost in the final at Montreal a week earlier, and appeared headed for another disappointment after her poor showing in the first set.
Gerber wore down during long rallies, grabbing her ankle at times. Li broke her serve by winning a 24-point game of the second set, putting her in control. Li hadn't won a tournament since 2011, when she won at Sydney and the French Open.
Defending champion Maria Sharapova dropped out before the tournament began because of illness.
On the men's side, top-ranked Roger Federer won a record fifth Cincinnati title on Sunday, dominating second-seeded Novak Djokovic from the outset for a 6-0 7-6 (9-7) victory.
Federer improved to 5-0 in Cincinnati finals and tied Rafael Nadal for the most Masters titles with 21. Nadal dropped out of the tournament with a sore knee that has sidelined him from the US Open and beyond.
"A record break - always something special when that happens," Federer said.
Djokovic won the Rogers Cup in Toronto last Sunday and was trying for his first win in Cincinnati, where he reached the finals last year but had to quit the title match against Andy Murray because of a sore shoulder. He seemed to be running on fumes in his second final in two weeks.
"I had a fantastic week in Toronto," Djokovic said. "I came in here and didn't really expect to get this far, get all the way to the title."
By contrast, the 31-year-old Swiss star skipped the Rogers Cup, leaving him fresher on Sunday.
Federer and Djokovic rarely have such lopsided days together. The Swiss star won the first set in only 20 minutes, allowing Djokovic just 10 points. It was the first time in their 28 career matches that one of them took a set 6-0.
The Serb never fully recovered, snapping his streak of 15 straight wins on hardcourts.
"I made a lot of double-faults," Djokovic said. "I was just trying to win that first game and get things moving."
Helped by a double-fault, Federer broke Djokovic's serve to start Sunday's match. Then, helped by two more double-faults, he broke him again to go up 3-0.
The fans gave Djokovic a loud ovation when he held serve to open the second set. The Serb looked up at the crowd and smiled while sipping water.
Djokovic showed more energy in the second set but never put much pressure on Federer, who didn't face a break point.
Djokovic survived one match point and managed to get one point away from taking the tiebreaker. Federer ran off the last three points, closing it out with a forehand.