SBS Radio News
Whale rescues to increase, says expert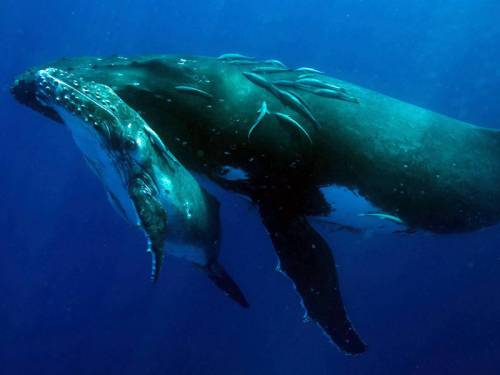 A marine expert predicts an increase in the number of whales getting tangled up in fishing lines, with hundreds of new babies joining the migration each year.
An increasing number of whales will require rescuing from fishing lines and nets as their numbers soar, a marine expert predicts.
Two of the giant mammals had to be cut free when they became tangled off the southeast Queensland coast on Wednesday.
A brave yachtie armed with a kitchen knife jumped into the water off North Stradbroke Island early on Wednesday to release a 12-metre humpback from a shark net.
And a team from marine park Sea World freed a juvenile whale which had its tail tangled in a fishing line off the Gold Coast.
Sea World marine expert Trevor Long says the young humpback was caught in a line connecting several crab pots and had probably been dragging them through the water for some time.
While the mammal was probably nursing a sore tail, it would now be able to continue its journey south to Antarctic waters, Mr Long said.
"After we cut it free the animal did move its tail more but I think it will probably sit there and just rest up a bit," he told AAP.
Mr Long said humpback whale numbers on Australia's east coast were increasing by about 10 per cent every year.
"This problem's not going to go away, in fact it's probably only going to get worse," he said.
Every year between 14,000 and 15,000 whales pass the coast, and each year there are about 1400 to 1500 new babies in the area, Mr Long said.
He said whales found it hard to see fishing lines and if their tails became caught they often reacted by spinning and rolling.
"Probably the message to fishers, if they do know that if a whale is caught in their gear, is to call marine parks or national parks or Sea World," Mr Long said.
They should stay with the trapped whale until help arrived, he said.
The Queensland government has placed audible devices called pingers on shark nets to warn the mammals away.