SBS Radio News
Blog: Courting votes in the Top End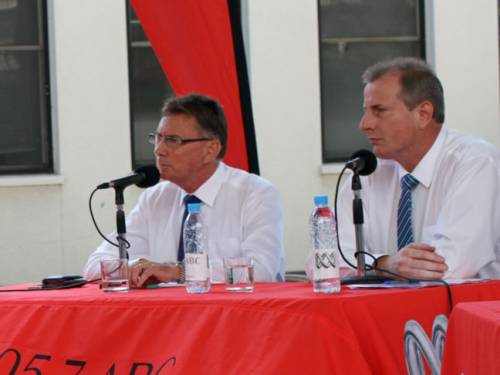 The Northern Territory election has striking parallels with what's happening at the federal level: a minority Labor government now facing possible electoral defeat, Shalailah Medhora writes.

By Shalailah Medhora

It is a territory election with striking parallels to what's happening at the federal level: a minority Labor government that clung to power with the help of an independent, now facing possible electoral defeat at the hands of a popular opposition.
AUDIO: Who'll be driving the NT after this weekend's election?
Despite the similarities, the Northern Territory election has very much been fought on local issues. There has undoubtedly been voter backlash at brand Labor given the federal government's less-than-stellar polling figures, but by and large, Territorians are concerned with issues in their own backyard.

Chief Minister Paul Henderson came to power with a narrow Labor victory in the 2008 election. The party won just 13 of the 25 seats. The following year, Marion Scrymgour resigned from the ALP over its handling of indigenous affairs. Months later, Alison Anderson did the same. Following crisis talks with Mr Henderson, Ms Scrymgour rejoined the ALP, and both Labor and the Country Liberal Party courted independent MP Gerry Woods, who ultimately sided with Labor. Ms Anderson eventually joined the CLP, and now stands as its candidate for Namatjira.

The political turmoil within Labor ranks over indigenous affairs has caused the party to backflip on its policy over the funding of remote Aboriginal homelands. To add to the mix, this election sees the formation of a new party, the First Nations Political Party, which has candidates in several of the 25 seats.

Both Labor and the CLP have lobbied heavily on the issue of law and order, with the Opposition criticising the government's Banned Drinker Register as expensive and ineffective. It has pledged to implement mandatory rehabilitation for problem drinkers, and expand the frontline police force.

Both parties also differ when it comes to how to deal with cost of living pressures. Darwin has become one of the most expensive cities in the country in which to rent, partly because of an influx of employees hired for a lucrative gas project. The Inpex LNG project will add up to 2,700 jobs to the local economy, but a shortage of available housing and the red tape associated with developing in the city has driven prices up sharply. Moreover, environmental groups have highlighted Inpex's refusal to rule out using dynamite in dredging Darwin harbour, which would be disastrous for the dolphins, dugongs, crocodiles and turtles that live in the area.

Territorians are vocal about their concerns, though how they'll vote is a mystery, as neither major party conducts public polling.
Watch Shalailah Medhora's report on YouTube: