SBS Radio News
Syrian rebels prepare for war of attrition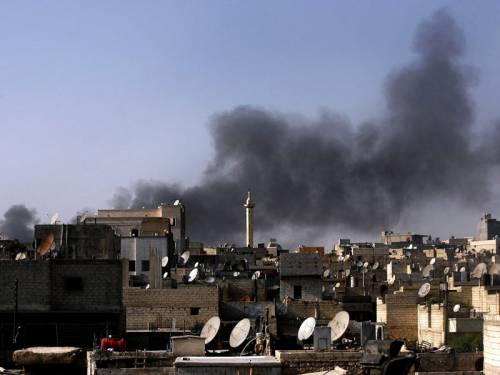 Aleppo is bearing the brunt of attacks by government warplanes, tanks and heavy artillery as the army battles to dislodge rebels.
Syrian rebels say they are digging in for a war of attrition in Aleppo, where the "mother of all battles" is now dragging on into a second month of bloody stalemate.
Aleppo is bearing the brunt of attacks by government warplanes, tanks and heavy artillery as the army battles to dislodge rebels claiming to control 60 per cent of the battered northern metropolis.
"We don't have enough weapons, they (the Syrian army) don't have enough men," said Abu Haidar, a rebel fighter in Saif al-Dawla, a district in the city's southwestern belt where much of the fighting is concentrated.
At least 200,000 people have fled the city since late July when the increasingly bloody conflict spread to Aleppo, a once thriving manufacturing and commercial hub where war has now left a trail of destruction, with bombed out buildings and shuttered shops.
"It is a long war. Each party wants to settle the score but it is a war of attrition that will drag on, with bombardments and fighting every day," said Rami Abdel Rahman, director of the Syrian Observatory for Human Rights, a watchdog with a network of sources on the ground.
Some rebel commanders say that even if the Free Syrian Army - a motley collection of armed opposition groups - seizes control on the ground, they will remain besieged from the air by the military's far superior firepower.
"Bashar al-Assad is like a wounded animal now, so I don't expect him and his army to follow a logic," Abu Mohamed, who leads a small katiba (brigade) near the Citadel in old Aleppo, said of the embattled Syrian president.
"I sometimes think he wants us to take the ground and then surround the city and starve us.
"He can then wait, try to cut us off and hope that we make mistakes, that civilians turn against us."
Abu Mohammed defected from the army three years ago and found political asylum in Belgium before crossing back into Syria via Turkey more than a year ago when the revolution started.
A top FSA commander in Aleppo, Abdel Jabba al-Okaidi, said on Tuesday the rebels now controlled more than 60 per cent of the city but this was rejected as "completely false" by a security source in Damascus.
And on Thursday, the army said it had recaptured three Christian neighbourhoods in the heart of the predominantly Sunni Muslim city, whose fate is seen as crucial to the outcome of the war, in part because of its strategic location near Turkey.
The Damascus security source said rebel ranks were swelling in terms of men but lacking in arms as government air strikes had destroyed many weapons caches.
"The army is trying to create security zones," the source said, by carving up neighbourhoods using troops and tanks to control the main streets and then "cleansing" each area of rebels.
"It's a long process," he said.