SBS Radio News
Labor easily wins Heffron NSW by-election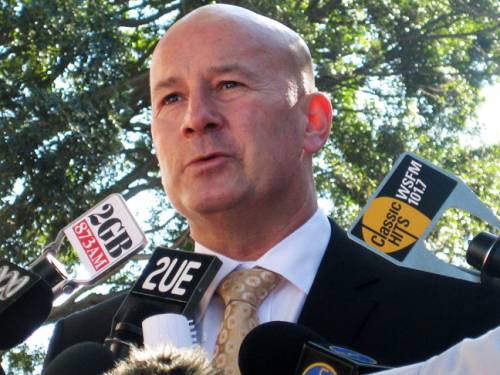 Botany Mayor Ron Hoenig says his victory in the Heffron by-election in NSW shows Labor is on the way back in the state.
Outgoing Botany mayor Ron Hoenig has declared Labor "back" in NSW after easily retaining the seat of Heffron for the party and increasing its primary vote in the electorate by almost 20 per cent.
Mr Hoenig received just over 60 per cent of the primary vote to win the seat vacated by former premier Kristina Keneally, with the second placed Greens getting about 23 per cent.
The new MP for Heffron, who has been Botany mayor for 31 years, said he was humbled by the overwhelming result.
"This is the return of the Labor Party in NSW," the 59-year-old told jubilant supporters at Mascot's Graphic Arts Club on Saturday night.
"This is a victory for all of the Labor party in NSW as it is for opposition leader John Robertson.
"If you look at us receiving more than 60 per cent of the primary vote, it can't mean anything else other than we're back."
With the Liberal Party not fielding a candidate in the by-election, the popular Mr Hoenig was always expected to win the seat in Sydney's east.
At a Mascot polling booth earlier in the day, Mr Robertson said he hoped for an improved vote on the 2011 election, when Ms Keneally suffered a massive swing in her government's heavy loss.
On Saturday night Mr Robertson cautiously labelled the result "encouraging".
"What it shows is that if Labor runs good candidates, if we run good local campaigns, people are prepared to vote Labor again," he told Labor supporters.
"(But) It still shows that we've got a long way to go in terms of regaining the confidence of the people of NSW.
The Heffron by-election brought out the heavy hitters in the Labor Party, with federal MPs Peter Garrett and Anthony Albanese manning poll booths.
Former Labor premier and now Foreign Minister Bob Carr, who was handing out how to vote cards at JJ Cahill Memorial School, said he hoped for a "modest upswing in the Labor vote".
"(Mr Hoenig would) be an excellent state member ... and those of us on the Labor side of politics that have taken a knocking of late, are looking for a modest upswing in the Labor vote," Mr Carr said.
"I think the cycle will turn. How quickly it turns is up to us. It will be good to see a decent, workmanlike, Labor result here."
Greens candidate Mehreen Faruqi said Labor had taken Heffron for granted by choosing a "party stalwart" to succeed Ms Keneally.
"The Labor party really had a opportunity to renew and refresh itself," Dr Faruqi said.
"(Mr Hoenig) represents everything the community feel went wrong with Labor."
Ms Keneally quit state politics in July to become head of Basketball Australia.