SBS Radio News
Australia go for pace in Sharjah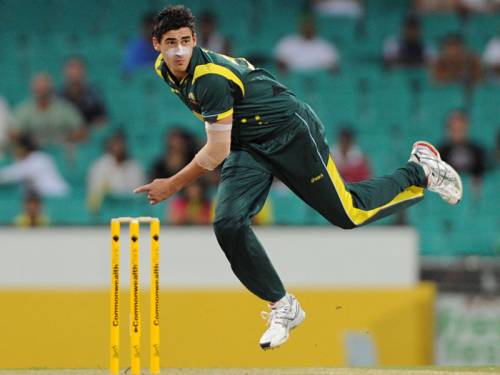 Australia showed their hand when succeeding with pace bowling in a 66-run win over Afghanistan in their one-day international clash in Sharjah.
Acting head coach Steve Rixon says pace already looms as Australia's trump card in the one-day international (ODI) series against Pakistan in Sharjah starting on Tuesday.
Captain Michael Clarke led from the front with a stylish innings of 75 in his new role at No.3, combining with Matthew Wade (75) for a second-wicket stand of 131, in Australia's 66-run win in their one-off ODI clash with Afghanistan on Sunday morning.
Left-arm quick Mitchell Starc was man of the match after grabbing 4-47 while fellow pacemen James Pattinson (3-46) and Mitchell Johnson (2-34) were also lively on a steamy Sharjah pitch devoid of grass that looked rather like one of the concrete strips used in the practice nets behind the main oval.
In just their second ODI game against a full-member ICC Test-playing nation, cricketing minnows Afghanistan were bowled out for a respectable 206 in 43.5 overs in reply to Australia's 8-272.
Afghanistan recovered from a shaky start at 4-49 as Mohammad Nabi (46) shared an 86-run stand with Asghar Stanikzai (66).
Afghanistan's bold run chase suffered a setback when Nabi was bowled by Johnson. It took a brilliant diving catch from Clarke at mid-wicket off the bowling of Starc to dismiss Stanikzai at 6-165.
The match began at 6pm and went beyond 1.30am to avoid the heat, in the first ODI scheduled over two days. However at midnight the temperature was still 34 degrees with a humidity of 63 per cent.
Legspinning allrounder Steve Smith was left out of the side.
Frontline spinner Xavier Doherty claimed 1-34 from 7.5 overs. David Hussey, and Clarke and debutant Glenn Maxwell bowled nine overs of spin for 35 runs.
"We've learnt a lot by actually playing a lot of our guys over the years in the Indian Premier League and other subcontinent competitions where we've actually seen how quicks bowling into the wicket with pace can be hard work," Rixon said.
"To me, if that's our trump card, by all means we'll be using it accordingly. You don't just play spinners for the sake of it.
"You've got to be getting people who are going to play a role in your side.
"If that means three or four quicks, or three quicks and say (injured allrounder) Shane Watson to come into your bowling attack, by all means, that will be our attack.
"It's something we took on board and we'll probably be using it as one of our strengths."
Rixon said the humidity was a big factor.
"Mitchell Starc was one of the few who swung the ball all day," Rixon said.
Starc said the Aussies had prepared for the pitch to favour spin but the quicks were able to take centre stage.
"The fast bowlers are going to play a massive part as well as the spinners in these conditions," Starc said.