SBS Radio News
Kvitova wins New Haven WTA title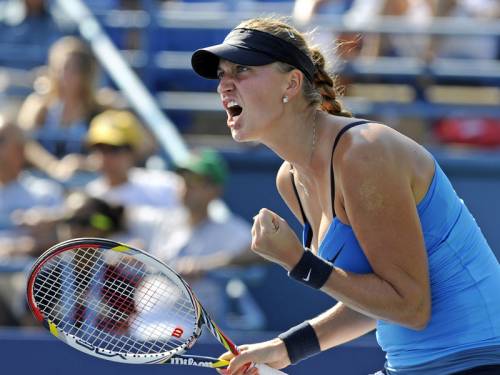 Petra Kvitova has beaten Maria Kirilenko in straight sets to win the WTA Tour's New Haven Open.
Former Wimbledon champion Petra Kvitova has claimed her second title of the season by beating Maria Kirilenko 7-6 (11-9) 7-5 in the final of the WTA Tour's New Haven Open.
The 22-year-old second-seeded Czech earned her ninth singles title by hammering seven aces and winning 56 per cent of her first-serve points in the two hour, seven minute match on Saturday.
The hardcourt tournament served as a tune-up for the US Open which begins on Monday in New York.
Kvitova, who won Wimbledon in 2011, outlasted Kirilenko in a marathon opening set that took more than an hour. She then rallied from a 5-2 deficit in the second by winning five consecutive games.
"In the tie-break I just played point by point - I wasn't thinking about the score," Kvitova said.
"In the end it was pretty close and I'm really glad I won it ... I made a lot of mistakes and went 5-2 down but then I tried not to think about my shots or tactics and started putting the ball into the court more."
Saturday's final came just weeks after the two met in the quarter-finals of the London Olympic women's singles tournament, where Kirilenko won in straight sets.
"Even though I lost I still feel positive," said Kirilenko, who was hurt by seven double faults.
"I played really well this week. I played a good match today. Unfortunately, I was unlucky in the final today."
Kvitova earned her first title of 2012 with a victory over China's Li Na in Montreal earlier this month. She earned $US107,000 ($A103,000) for Sunday's win.
Kvitova has secured the top spot in the US Open Series standings as a result of her performance in the tournaments heading into the final grand slam of the season. That gives her a chance to collect a $US1 million ($A961,000) bonus if she wins the US Open.
She's seeded fifth at the Open and will play her first-round match against Slovenia's Polona Hercog on Monday.
"It's unbelievable. I played three tournaments in a row and won two," Kvitova said.
"I've played a lot of matches and I'm feeling more relaxed and confident on the court. I hope all of this will continue into the US Open next week."