SBS Radio News
Isaac rains on Romney's parade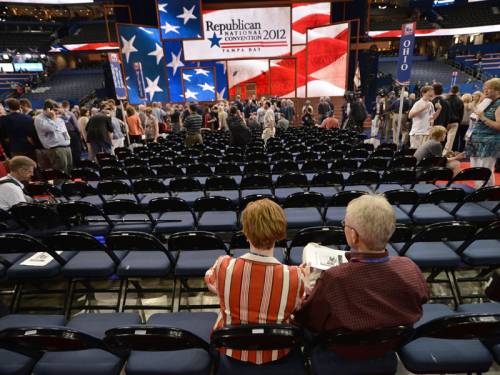 The Republican national convention held a brief symbolic opening session but is waiting for Tropical Storm Isaac to pass before proceedings.
The Republican convention began with a whimper as Tropical Storm Isaac reduced the gala opening of Mitt Romney's party coronation to a symbolic session of less than two minutes.
It was supposed to be a raucous launch-pad for four days of carefully choreographed political theatre. Instead, Isaac hogged the spotlight as it neared hurricane strength over the Gulf of Mexico and took aim at New Orleans.
Wielding a gavel, Republican National Committee chairman Reince Preibus declared a recess almost before proceedings had begun, saying the thoughts and prayers of all must first and foremost be with the people of the Gulf coast.
The original script had seen Romney formally nominated to take on President Barack Obama in the November 6 election by thousands of delegates, launching a succession of well-honed speeches by leading party figures.
That roll call will now take place on Tuesday afternoon as the convention in Tampa, Florida gets under way for real.
Lying neck-and-neck with Obama in the polls 10 weeks before election day, Romney hopes to use the convention to recast his image after months of damaging White House attacks on his tax secrecy and business record.
Many US voters don't really tune in until the convention season starts - Obama and the Democrats hold their's next week in Charlotte, North Carolina - so Tampa provides Romney with a golden opportunity to reset the narrative.
The run-up to the convention was marred by incendiary remarks from Todd Akin, a Republican congressman seeking a Senate seat in Missouri who suggested women's bodies spontaneously prevent pregnancy after a "legitimate rape".
The Romney camp is thus anxious to get the campaign back on message, billing the former Massachusetts governor as a successful businessman with the acumen to turn around the flagging US economy and get the country back on track.
A convention speech on Tuesday by Romney's wife, Ann, will highlight his human side, while former Olympians take to the floor on Thursday to remind Americans he saved the 2002 Salt Lake City Olympics from bankruptcy.
But the storm presents the candidate with the spectre of a natural disaster casting a pall over his big moment, and he must tread a fine line between driving his political ambitions and showing sensitivity to those in harm's way.
"Our thoughts are with the people that are in the storm's path and (we) hope that they're spared any major destruction," Romney told reporters at his New Hampshire home, as he prepped for Thursday's primetime acceptance speech.
The fate of the convention lay in Isaac's hands as it barrelled towards Louisiana. It was expected to make landfall as a category one hurricane late on Tuesday or early on Wednesday, right on the eve of Romney's address.
Louisiana Governor Bobby Jindal, another high-profile convention speaker, was forced to stay home and prepare for disaster, while vice-presidential pick Paul Ryan delayed his arrival in Tampa until Tuesday because of the storm.