SBS Radio News
Go Back takes the asylum-seeker debate into schools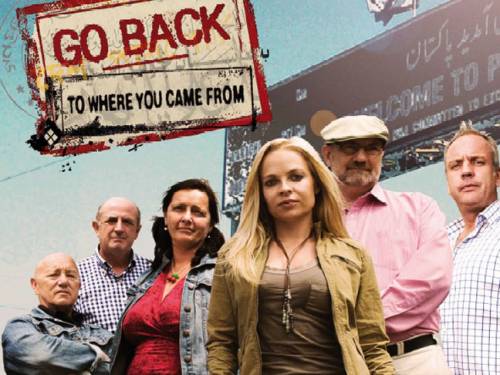 SBS, Amnesty International and the Refugee Council of Australia have partnered to create a free school resource pack to promote greater understanding of asylum-seeker experiences.

Go Back sparks asylum debate
As the debate over asylum seeker policy and refugee issues is again in focus, SBS has partnered with Amnesty International and the Refugee Council of Australia to deliver a free education resource to all secondary schools across the country.
The Go Back to Where You Came From School Pack provides educational activities that aim to engage students with a deeper understanding of the complexity of refugee life and seeking asylum.
"Go Back to Where You Came From provides unique insight into a topic so often taken over by political campaigning and media headlines," says SBS Outreach Executive Bindi Newman.

"This unique collaborative education initiative helps take this important discussion beyond television screens and into classrooms around the country in an engaging and accessible way."
Despite Australia's efforts to resettle more than 9,000 refugees in 2011, a figure that contributed to more than 11 per cent of the global total, research shows Australians lack sympathy towards refugees who come to Australia by boat.

To help younger Australians understand the issue of refugees in Australia, the School Pack contains practical activities that are supported by fact sheets, links to additional information and case studies.

Students will be able to engage in interactive tutorials, watch video clips and access teachers' notes on the SBS Go Back to Where You Came From website.

"We have created practical activities to help students understand the facts that are so often absent from Australia's refugee debate. It is vital that young people get the opportunity to learn more about the human right to seek asylum and the reasons why people are forced to seek safety and protection," says Amnesty International refugee campaigner, Alex Pagliaro.

Refugee Council of Australia spokesperson Andrew Williams says the initiative is an important step in educating Australians about human rights and a way to remind people to act compassionately towards "our fellow citizens of the world."

In the second instalment of the multi award-winning documentary series, Go Back to Where You Came From, six prominent Australians – Angry Anderson, Peter Reith, Catherine Deveny, Imogen Bailey, Michael Smith and Allan Asher – risk their lives to experience the reality of refugee life, as they embark on an extraordinary and confronting three week journey.

The Go Back to Where You Came From documentary series will be broadcast over three nights on August 28-30 on SBS ONE at 8:30 PM.
A special live Insight program on Friday August 31 at 8:30 PM on SBS ONE will feature the six participants and a studio audience to talk about the series and what they think should be done about people arriving by boat.

Visit the Go Back Facebook page
Follow #GoBackSBS on Twitter via @SBSDocumentary
Your Comments
Previous 10 |
Page 1
| Next 10
Previous 10 |
Page 1
| Next 10
Join the Discussion