SBS Radio News
Refugee move hasn't hurt reputation: Carr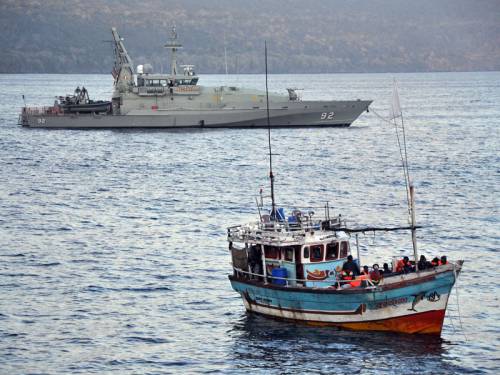 The decision to process refugees far from Australian shores hasn't harmed the nation's human rights reputation, Foreign Minister Bob Carr says.
Australia's human rights reputation is not suffering from the federal government's return to offshore processing of asylum seekers, Foreign Minister Bob Carr says.
Senator Carr said that also applied to a hunger strike underway at the Christmas Island Immigration Detention Centre by refugees who were told they could be transferred to Nauru or Manus Island for processing.
"Every country in the world is aware of the pressure of asylum seekers - there wouldn't be a country in Europe that would be at all surprised by the challenge for Australian policy makers or what's happening on Christmas Island," Senator Carr told reporters at an African mining conference in Perth on Wednesday.
"Irregular maritime arrivals is a fact of life in all the Mediterranean world and I can tell you from my conversations with colleagues in Asia that Australia doesn't suffer at all from any observation on how we handle this problem."
Senator Carr said he didn't expect there would be a repeat of the desperate actions taken by refugees in Australia previously, including sewing up their lips in protest.
"I would think there's less chance of that because what we're going through now is a very transparent process."
People smugglers would also have a less persuasive argument for convincing refugees to take the dangerous sea journey, he said.
Senator Carr said anyone who had read the recent report by the Angus Houston-led panel, which recommended a return to offshore processing, would accept the move was necessary.
"We're just not in a position to accept anyone brought into Australian waters by people smuggling."
The Department of Immigration on Tuesday said nine people were "on voluntary starvation" at the Christmas Island facility, compared to a reported 62 people on Saturday.
The department was being sought for an update on the strike.