SBS Radio News
Pakistan implode in power play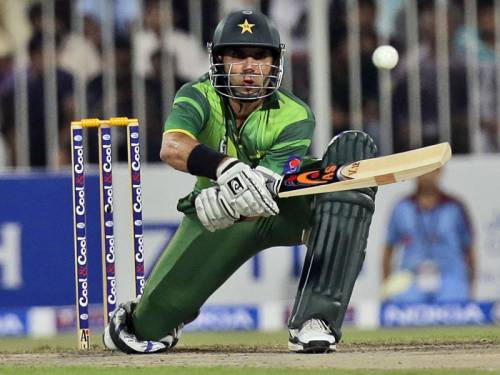 Pakistan's batsmen need to handle the batting power play five-over period much better, skipper Misbah-ul Haq says.
Pakistan captain Misbah-ul Haq laid the blame squarely at the feet of his batsmen following his side's four-wicket loss in their one-day game against Australia on Wednesday morning.
He said on a slow-paced Sharjah pitch with a lush outfield, 230 or 240 would have been a good score.
Instead, sixth-ranked Pakistan imploded from a promising position of 4-159 after 35 overs when they took their batting power play, to 7-175 five overs later.
Pakistan were bowled out for 198 in 45.1 overs.
Australia were made to fight all the way against Pakistan's strong spin-bowling attack, reaching their target in the 49th over.
Asad Shafiq, who scored 56 before he was bowled by Mitchell Starc attempting an ambitious cover-drive, was the fifth man out and triggered the collapse of 6-38.
Kamran Akmal (four) and Shahid Afridi (duck) both fell in the 40th over to Starc also and the skipper could not believe his eyes.
Umar Akmal cracked a fine 52 then hit a catch to cover in the 42nd over.
"We have to just learn how to play in situations like that," he said.
"We have played enough cricket so they have to learn that.
"The most important thing is to play 50 overs.
"When you know that your bowling lineup is so good that even you can score 230 or 240 and it's defendable.
"We scored 30 or 40 or 50 runs and just gave away the wicket.
"One batsman has to continue.
"We were at least 30 runs short. The bowlers tried hard.
"We should just blame the batting for that (loss)."
Misbah said the batting power play with the field up shouldn't be a trigger for batsmen to bat without due care for their wickets.
"We knew what target we were looking for. We don't need to just go after the bowling," he said.
"I don't know what happened there. There was nothing about `we have to go after the bowlers in the power play'.
"We are doing these mistakes for the last two or three series and if we do like that, it's really difficult to win the match."
Spinners Saeed Ajmal, Shahid Afridi and Mohammad Hafeez shared the six Australian wickets to fall.
"Let's see how the wicket (looks). Normally Abu Dhabi is very helpful to the fast bowlers," he said when asked if Pakistan would bring in another spinner for Friday's second game.