SBS Radio News
Krakouer back to boost Collingwood in AFL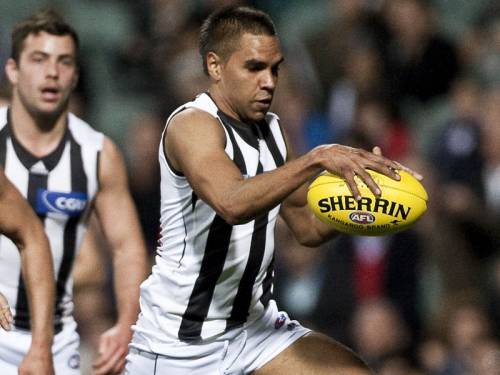 Andrew Krakouer will make his return from a knee reconstruction on Saturday night against Essendon as Collingwood look to seal a top four berth.
Collingwood's under-fire forward stocks will get a major boost in the form of Andrew Krakouer, who is set to play his first AFL match of 2012 on Saturday night against Essendon.
With big men Chris Dawes and Travis Cloke sadly out of form, the return from injury of Krakouer is extremely timely as the fifth-placed Magpies need to beat the Bombers at the MCG in the final home and away round to stay in contention for a top-four berth and the resultant double chance in the finals.
Collingwood players let out a cheer at training on Wednesday when the 29-year-old, who had a knee reconstruction just six months ago, was given news of his inclusion.
Coach Nathan Buckley said the goalsneak had "demanded selection" with his excellent VFL form over the past four games.
He said the return of Krakouer, who made a comeback to the AFL last season after being in prison for 16 months for assault, was a "fantastic story".
"It's a huge story. Even for him to come back and do what he did last year after his personal trials," Buckley said.
"He's been through a fairly rollercoaster football career, very public ups and downs.
"He adds another chapter to a great story and we're looking forward to him playing the type of footy he's played the last couple of weeks in the VFL and being a real impetus for us."
As well as his contested ball work, Buckley believed Krakouer would add great experience and skill to the line-up.
"He's probably got the cleanest hands in tight of nearly any player that's played the game in recent times.
"His touch has been excellent in the VFL ... 29 touches, 10 tackles and eight clearances, he's tipping into all elements of the game."
Magpies skipper Nick Maxwell and first-choice ruckman Darren Jolly are also fit to play after missing last Saturday's loss to West Coast in Perth.
Midfielder Sharrod Wellingham should also be available for selection despite having stitches inserted in the webbing of his hand, which he favoured at training.