SBS Radio News
Assad says military 'needs time to win battle'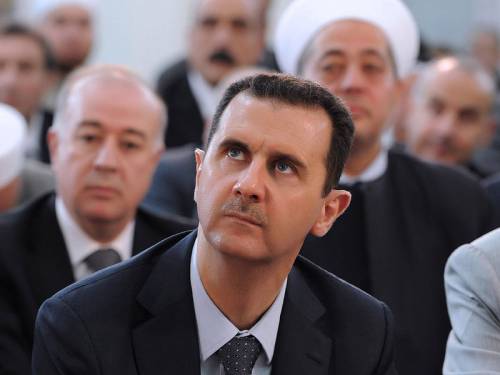 President Bashar al-Assad says his regime needs more time to win the battle for Syria and scoffed at the idea of creating buffer zones for displaced people, as fighting raged across his country.
President Bashar al-Assad says his regime needs more time to win the battle for Syria and scoffed at the idea of creating buffer zones for displaced people, as fighting raged across his country.

Assad's statements, in an interview with pro-regime Addounia channel to be screened on Wednesday night, came a day after a car bomb rocked a funeral in a Damascus suburb killing 27 people, and as a watchdog reported 189 people killed countrywide on Tuesday.

"I can summarise in one phrase: we are progressing, the situation on the ground is better but we have not yet won -- this will take more time," Assad said in advance excerpts of the interview broadcast by the private channel.

Assad also rejected at an idea being championed by Turkey of creating buffer zones within Syria to receive those displaced by the conflict so that they do not flood across the borders into neighbouring countries.

"Talk of buffer zones firstly is not on the table and secondly it is an unrealistic idea by hostile countries and the enemies of Syria," he said.

French President Francois Hollande said on Monday France was working with its partners on the possible establishment of such buffer zones.

But his foreign minister, Laurent Fabius, admitted Wednesday that implementation of the plans would be "very complicated" and would require the imposition of partial no-fly zones.

Turkish Foreign Minister Ahmet Davutoglu meanwhile said Turkey is in talks with the United Nations on ways to shelter thousands of refugees on Syrian soil and expects the world body to take concrete steps.

"We expect the United Nations to step in for the protection of refugees inside Syria and if possible housing them in camps there," Davutoglu was quoted as saying by the Anatolia news agency.

He was speaking before leaving for New York where he was to attend UN Security Council meeting on refugees Thursday.

Assad also mocked those defecting from his regime, saying their departure amounted to a "self-cleansing of the government firstly and the country generally."

Syria's government has been rattled by several high-profile defections as the conflict has escalated, including former prime minister Riad Hijab and prominent General Manaf Tlass, one of Assad's childhood friends.

"Despite several mistakes, there is a strong bond" between the regime and the Syrian people, Assad insisted, boasting the support of the majority of the country's population.

Addounia said it would screen the full interview at 1800 GMT on Wednesday.

---- Battle for Taftanaz airport ---

--------------------------------------

The Syrian Observatory for Human Rights, meanwhile, said that fierce fighting broke out on Wednesday between the Syrian army and rebels near Taftanaz military airport, between the northern cities of Aleppo and Idlib.

A rebel fighter, Abu Mossab, told AFP via Skype that his group had destroyed five helicopters when they shelled the airport with two captured military tanks. His claims could not be independently verified.

The Britain-based Observatory reported that 14 government troops suffered 14 casualties in the fighting at Taftanaz, while two rebels and one civilian died elsewhere in Idlib province.

In Aleppo city, where the army and rebels have battled for over a month for control, fierce clashes broke out between the two sides in several districts, according to the watchdog.

And in Damascus, activists reported a third straight day of army attacks on rebel strongholds in the eastern outer belt of the city, collectively referred to as East Ghuta.

The Local Coordination Committees, a network of activists on the ground, said warplanes and helicopters bombed and strafed all the East Ghuta suburbs, while the Observatory reported attacks by combat helicopters on the eastern suburb of Saqba as well as shelling further into the city in the district of Zamalka.

The violence followed a bloody day on Tuesday in which the Observatory reported that 189 people were killed countrywide: 143 civilians, 14 rebels and 32 soldiers.

State-run newspaper Tishrin said Tuesday's car bombing of a funeral in Damascus was an indication that the "terrorist" groups have reached a very advanced stage of despair and bankruptcy."

The bombing hit Jaramana, a mainly Druze and Christian town on the southeastern outskirts of Damascus that the Observatory described as generally supportive of Assad's government.

State media blamed rebel fighters for the bombing, but the opposition Syrian National Council accused Assad's regime of staging the bombing against its own supporters in a bid to divert attention from the killings of hundreds of people during an army assault on a largely Sunni Muslim suburb of the capital last week.

Some 80 percent of Syrians are Sunni Muslim, while around 10 percent belong to Assad's Alawite community, five percent are Christian, three percent Druze and one percent Ismaili.

The opposition draws much of its support from the Sunni majority, who have borne the brunt of the government's crackdown.

Activists say around 25,000 people have been killed since the uprising against Assad's rule broke out in March last year, while the United Nations says more than 214,000 people have fled to neighbouring countries.