SBS Radio News
US follows Aussie lead on gender equality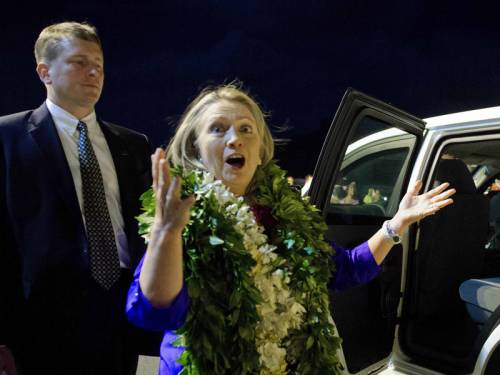 US Secretary of State Hillary Clinton has praised Prime Minister Julia Gillard's announcement of $A320 million for a new Pacific women's aid strategy.
Australia's lead on gender equality in the Pacific is being followed by the US, with Secretary of State Hillary Clinton unveiling a major aid initiative targeted at women.
Ms Clinton has praised Prime Minister Julia Gillard's announcement of $A320 million for a new Pacific Women Shaping Pacific Development aid strategy, calling it an "unprecedented historic commitment".
The funding, unveiled on Wednesday, will go towards helping to increase the number of Pacific women in leadership roles and improve women's access to financial services, markets, justice, safety and health services.
It includes mentoring and training for female MPs and candidates, and greater access to employment equity.
Currently, women hold just five per cent of the Pacific's parliamentary seats, and more than 60 per cent of women in some countries have experienced sexual or physical abuse, according to figures from the Australian Government Overseas Aid Program (AusAID).
Ms Clinton on Friday unveiled another gender equality initiative, in collaboration with the New Zealand and Australian governments.
She launched the Rarotonga Partnership for the Advancement of Pacific Island Women "to identify rising women leaders across the region, and connect them with networks of support".
The partnership will create an exchange between Pacific and Caribbean women and help them to develop ideas to improve the situation for women, including in employment and business, in their homelands.
Ms Gillard rushed home from the Pacific Islands Forum on Wednesday following news that five Australian soldiers had been killed in Afghanistan, meaning bilateral talks with Ms Clinton had to be put on ice until they both attend the Asia Pacific Economic Cooperation (APEC) conference in Russia next week.
Ms Clinton also offered her condolences to Australia and New Zealand for their recent losses of life in Afghanistan, but praised the progress they had helped to make and their commitment to staying the course.