SBS Radio News
Murray feeling gold again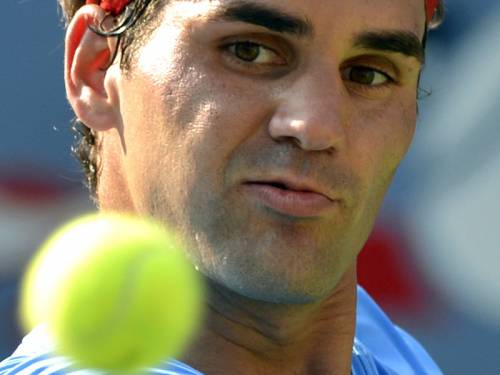 Andy Murray and Roger Federer have edged to within one more win of another grand slam showdown at the US Open.
Andy Murray has that Olympic feeling as he edges ever closer to another high-stakes clash with Roger Federer at the US Open.
Murray made light of Milos Raonic's supersonic serve to reach his eighth consecutive grand slam quarter-final on Monday as Federer progressed to his 34th straight without even picking up a racquet.
Murray, who succumbed to Federer in the Wimbledon final before turning the tables on his Swiss nemesis in the Olympic gold medal match three weeks later, rendered Raonic's booming delivery ineffective in a 6-4 6-4 6-2 dispatch of the Canada's 15th seed.
The Scot didn't face a single break point in booking a Wednesday meeting with 12th-seeded Croat Marin Cilic.
"I served really smart today, did a good job behind my serve," Murray said.
"I did the same at the Olympics, didn't get broken the last three matches I played there.
"It was really important to serve well the deeper you go in the tournament. It conserves a lot of energy."
Murray suffered shock second-round defeats at the Open lead-in events in Toronto and Cincinnati and admitted he came back too early from his gold medal glory.
But with Federer now looming just one more win away, the world No.4 said grand slam form was all that counted.
"I said it didn't matter how many Masters Series or whatever I won, or how well I played in them, I just always got asked about my performances in the slams," Murray said.
"So it seemed like that was the only thing anyone was bothered about. I'm glad my consistency has been better in them.
"I have played my best tennis in the slams and I hope it can continue."
Success over Cilic, who stopped Slovenian qualifier Martin Klizan 7-5 6-4 6-0, would almost certainly thrust Murray into an 18th career showdown with Federer.
Fully refreshed after receiving a fourth-round walkover from American Mardy Fish, Federer is well-fancied to take out seventh seed Tomas Berdych in his quarter-final on Wednesday.
The world No.1 has won 11 of their 15 career encounters, including four out of five at grand slam level.
And rest assured the Swiss master hasn't forgotten his quarter-final loss to Berdych at Wimbledon two years ago.
Federer, whose 38 grand slam quarter-finals appearances is three shy of Jimmy Connors' record, was handed a free pass to the last eight when Fish withdrew for health reasons.
The 30-year-old missed two months earlier this season because of a heart problem, being hospitalised after the Miami Masters in March when his heart rate increased to three times its normal resting pace.
Fish then had a cardiac catheter ablation in Los Angeles in May to address the problem.
"I regret that I have to withdraw from the US Open for precautionary measures," Fish said.
"I was reluctant to do so, but am following medical advisement."
"I had a good summer and look forward to resuming my tournament schedule in the fall."
Berdych confirmed his appointment with Federer with a 7-6 (7-4) 6-4 6-1 fourth-round win dismissal of Spanish 11th seed Nicolas Almagro.
The Czech has now made the quarter-finals of all four majors.