SBS Radio News
FMG cutbacks prompt boom debate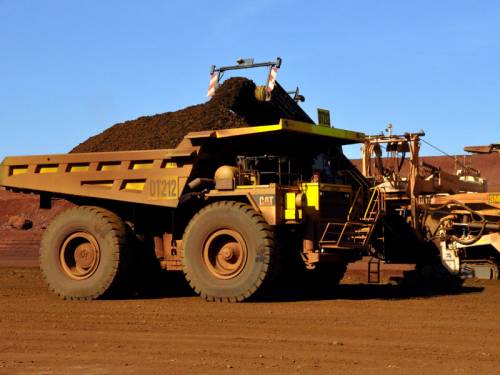 Ion ore producer Fortescue Metals Group will cut hundreds of jobs and delay expansion plans but Rio Tinto will keep its expansion plans.
Iron ore miner Fortescue Metals has shelved $1.57 billion of expansion plans and cut hundreds of workers' jobs, in a further sign that the peak of the mining boom may have passed.
Fortescue, founded by billionaire Andrew Twiggy Forrest, blamed the cuts on uncertainty over the spot iron ore price which has fallen rapidly amid reports of China scaling back its steel making capacity.
The announcement prompted Prime Minister Julia Gillard to call for calm in the mining industry, pointing out that hundreds of millions of dollars of planned investment was still likely to be spent.
Far from scaling back, rival iron ore miner Rio Tinto is pressing ahead with its own aggressive expansion plans in Western Australia's Pilbara region.
Fortescue chairman Nev Power said on Tuesday that immediate cuts to operating costs and jobs would save $300 million.
"In total there will be a reduction of several hundred staff and several hundred contractors across the business," Mr Power said.
The company's new near-term growth target is 115 million tonnes of iron ore per annum, well down on its previous target of 155 million tonnes per annum.
However, Fortescue will continue expanding its Christmas Creek mine and commission the low-cost Firetail deposit at the Solomon mine, both in WA.
The company has deferred the development of the Kings deposit within its Solomon mining hub in the Pilbara and the full completion of its fourth berth at Herb Elliott Port, until ore prices returned to more sustainable levels.
Mr Power last week blamed recent falls in the spot price of iron ore on Fortescue's customers - Chinese steel mills - which were running down inventories instead of producing more steel.
Mining giants BHP Billiton, Rio Tinto and Fortescue are dependent on continued Chinese demand to earn returns on the billions of dollars they have committed to expanding iron ore production in the Pilbara region.
BHP recently put its $30 billion Olympic Dam expansion on hold, blaming a change in global trading conditions.
Rio's head of Pilbara iron ore operations Greg Lilleyman said expansion plans to increase capacity by 60 per cent to an annual throughput of 353 million tonnes were on track.
Fortescue's decision was positive for the medium term supply, demand balance and therefore prices and returns on Rio Tinto's Pilbara project, Mr Lilleyman said.
Prime Minister Julia Gillard said Australians should not lose sight of "the whole picture - a huge resources boom," including half a trillion dollars of investment projects still to be spent.
"We will continue to see hundreds and hundreds of millions of dollars invested in new resource projects," Ms Gillard said.
WA Premier Colin Barnett said most lost jobs at Fortescue would be reabsorbed into other mining and construction projects but that further iron ore price falls could lead to a slowdown in the sector.
Former Rio Tinto chief executive and now Qantas chairman Leigh Clifford said more mining projects would be deferred.
City Index analyst Peter Esho said other miners could follow Fortescue's lead.
Fortescue shares closed 15 cents, or 4.2 per cent, lower at $3.41 and Rio Tinto shares rose 52 cents, or 1.04 per cent, to $50.37.
Ratings Agency Moody's said it's continuing to review Fortescue for possible downgrades.